U.K. 2013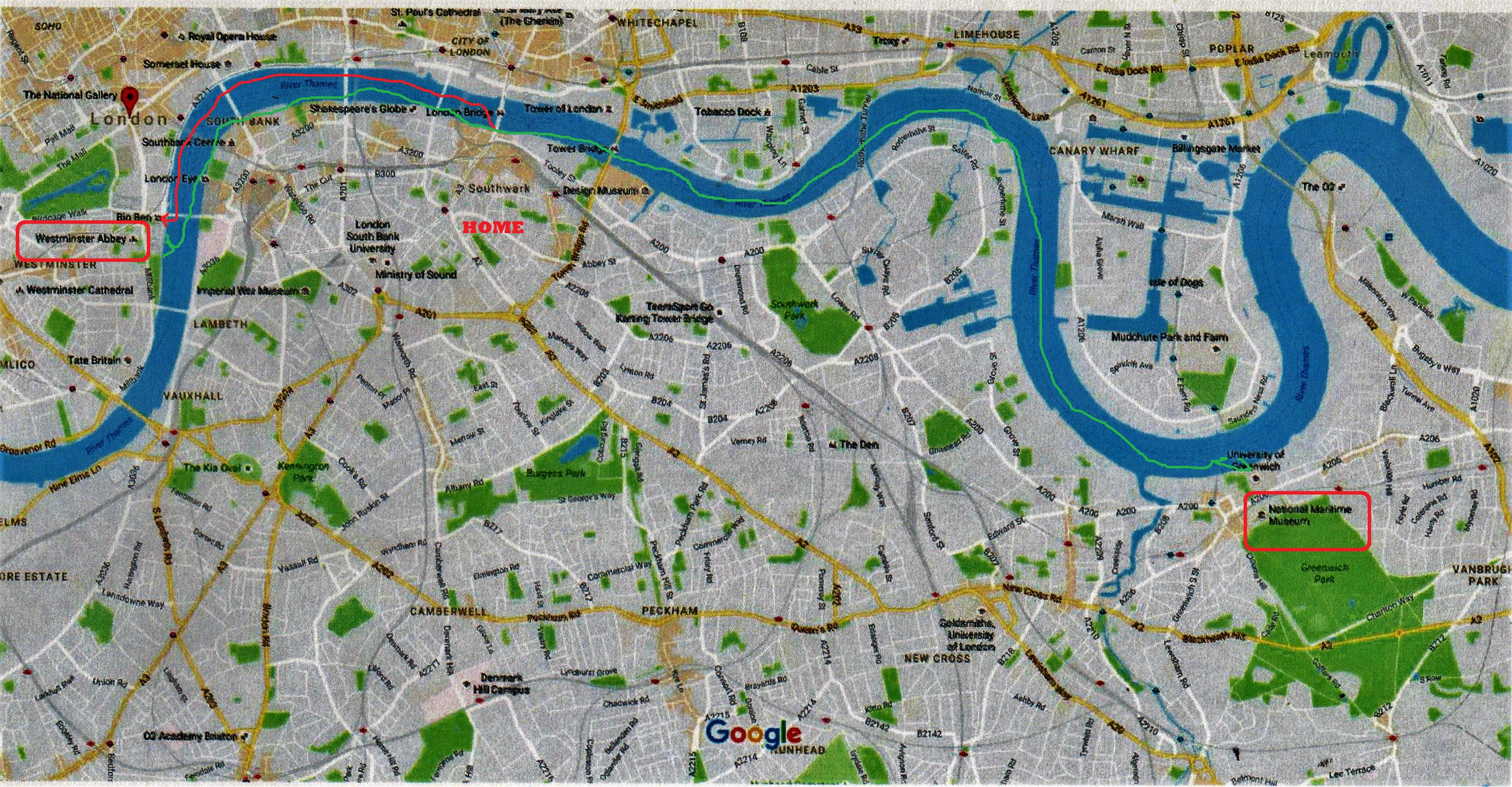 Day 21, Sunday
September 23, 2013
OUR LAST DAY
LONDON
We ran out of breakfast food yesterday and hadn't had the chance to buy anything to replenish, so we ate out this morning. We headed up our street towards the London Bridge and found a nice little restaurant that served breakfast. I had what was called an American breakfast – 2 of everything- fried eggs, bacon, link sausage, potato cakes, and pancakes – all for 6 pounds. Kathleen had an order of scrambled eggs and English muffins.
At London Bridge we went down to what is called the Queen's Walk which is a walk along the river. We took a boat from London Bridge pier to Westminster-to Parliament, Big Ben and Westminster Abbey. SEE THE RED LINE ON THE RIVER ON THE MAP ABOVE. It was rather gray out, but not quite a cold as it has been. The actual dock for that boat was several blocks before the Parliament Building. Westminster Abbey is across the street from the Big Ben.
We had attended Sunday morning service in Westminster Abbey when we were here in 2003, but the rest of the Abbey was locked up on Sunday. For the history of the Abbey, please read about our first visit in 2003.
Today, we got an audio guide with our admission fee. Westminster Abbey is full of tombs and memorialsof famous people. We saw the tombs of Queen Elizabeth I, Queen "Bloody" Mary, Henry VII, Edward I, Mary Queen of Scots, and James I to name a few. There was Eucharist at 12:30 so we attended. It was held in the Nave at the crossing. There were hundreds of people walking around but not many went to the service. We went back to look at the Poet's Corner were many famous poets are buried or were memorialized. No photos were allowed.
It was a little after 1:00, and we were hungry so we went to the Abbey café and had lunch – sandwiches and a glass of wine.
Behind Westminister Abbey is the British Parliament and the famous Big Ben clock. We did not have time to visit the Parliament - next time.
Then we walked to the dock near Big Ben and caught another boat that took us the Greenwich – about an hour ride. SEE THE SMALL GREEN LINE IN THE RIVER ON THE MAP ABOVE. By then the sun was shining – the prettiest day that we have had. I even took off my jacket and hat. In the photo on the left is the London Eye ferris wheel which we don't have the nerve to ride yet. Maybe next time.
On our way to Greenwich we passed under the Millennium Bridge which we had walked across on Friday.

Then we passed under the Tower Bridge.

All along the way were interesting and modern buildings.
It was about 4:35 pm when we landed. The beautiful buildings are right on the river. This is the site of the Old Royal Naval College. We especially wanted to see the Painted Room which is the dining hall, and the chapel. We had a brief time in each as they were locking up for the day.
Greenwich has long held an important significance for the monarchy. Originally it was a manor house built in the 1420s. It was later acquired by Queen Margaret of Anjou, who extended it to create the Palace of Pleasaunce or Placentia. After being rebuilt by Henry VII as Greenwich Palace in the late 1490s, the site developed into a favourite royal residence of the Tudors and was the birthplace of Henry VIII, Mary I and Elizabeth I. Greenwich Palace was one of Henry VIII's favourite palaces.
During the English Civil War the palace fell into disrepair, and most of the buildings were subsequently demolished: today only their foundations exist, buried beneath Grand Square.
The classical buildings that make up the Old Royal Naval College today - including the twin domes - were built for purpose as the Royal Hospital for Seamen, and date back to the 17th century.
Sir Christopher Wren produced designs for the new Greenwich Hospital and work commenced in 1696 on the four major buildings which eventually were to accommodate over 2,000 veterans of the Royal Navy. The final blocks were completed by Thomas Ripley between 1735 and 1751.
Occupation by naval pensioners continued for over a century until reduced numbers finally forced the closure of the Hospital in 1869. The buildings were re-opened in 1873 as the Royal Naval College for the education of officers, with the Joint Services Defence College arriving in 1983. When the Navy left in 1997, an independent charity was established to conserve the site for present and future generations.
We did have a few minutes to visit the magnificent Painted Hall, which is recognised as the greatest piece of decorative painting in England and has been described as 'the Sistine Chapel of the UK'. Designed by Sir Christopher Wren and Nicholas Hawksmoor it was originally intended as a dining hall for the naval pensioners who lived here at the Royal Hospital for Seamen. The walls and ceiling were painted by Sir James Thornhill in two major phases between 1708 and 1727, and use symbolism to deliver powerful messages on a range of subjects, including the monarchy, religion, maritime power, navigation and trade. Later in 2016, an ambitious restoration project will go underway, seeing the hall restored to its former glory after decades of deterioration.
We then rushed across the street and had a few minutes in the chapel before it was locked for the night. The Chapel of St Peter and St Paul is a neo-classical masterpiece by James 'Athenian' Stuart and William Newton. Featuring a Samuel Green organ and an altarpiece painted by Benjamin West, it is one of the finest eighteenth century interiors in the UK. Still a working chapel, the Chapel also hosts regular concerts, Evensongs, and frequent performances by students at the nearby Trinity Laban conservatoire of music and dance.
Across the river is a white dome with 12 poles sticking out of the top. This was build in 1999 as the Millennium Dome, later it was remained The O2. It was also used as the Greenwich Arena for the 2012 London Summer Olympics.
We had a new experience as we took the DLR (Docklands Light Rail) back to town. It is computer run and does not have a driver. Some of it is above ground. It terminated at a tube stop that we knew. We had to take the tube back to our neighborhood station. The crowd waiting for the trains was unbelievable-it was rush hour. The cars were packed. They came every few minutes and we couldn't get on the first two. We pushed our way on the third one and were packed like they used to say "like sardines". There was one stop before ours and a huge group squeezed past us to get off. It was quite an experience. I told Kathleen that I couldn't live like that.
We decided to go to Trinity Pub, an attractive pub next to the station for a drink…we needed one after our tube experience. It was about 6:30 pm and a little early for dinner, so we walked back to our apartment and did some packing. We were getting hungry and decided to go back to the pub as they had a good menu. When we went in, the noise level for deafening so we walked out. We started up the street and found a Subway……just what we needed, so we shared a steak and cheese sandwich and some chips and a couple of cookies. We were so tired that filled our needs. It the spot.
Well, tomorrow is our departure day. We have a taxi reserved for 8:30 am to take us to Heathrow Airport. It is about an hour travel time. A cab is the easiest way to go even if it a little expensive. I can't image trying to taking the tube with two suitcases and two carry ons. Our plane leaves at 1:00 and takes 9 hours. We get back into Dulles about 5:00 (our time). Then we called the shuttle from the hotel to pick us up and take us back to the hotel to get our car.
We have had a very, very wonderful trip. We have seen a lot of magnificent buildings even though the weather was pretty much a negative. Kathleen did an outstanding job booking wonderful hotels, restaurants and trains. Everything worked out perfectly. We always caught the right train, the food was very good and the accommodations very comfortable. Our only complaint were all of the shower/bath tubs. They are so deep that us old folks with bad knees have a hard time getting in and out. Only one hotel had grab bars. We had to help each other in and out of the shower. We have always experienced this but it gets harder each year.
On this cathedral quest we visited 31 churches – 14 of them Cathedrals. This brings our total on our 10 trips to 232 churches – 82 of them cathedrals. Also we have visited 89 cities in 10 countries. We hope we can keep this up for a few more years.

Another highlight of this trip was meeting friends that we had met through this website – Philip, and Mike and Val. We also greatly enjoyed our visit to our new friends in Edinburgh that we had met in Cancun.