Day 15
WEDNESDAY, MAY 21st
VENICE
We started our day with an Italian breakfast… coffee and brioch…which is a coisssant con marmelleta…good apricot jam.
Then because it was raining we took the vaporetto to the St. Mark's stop to go the Doges Palace for the " Secret Itineraries' tour.

We struggled getting the ticket even though we had made reservations on the internet weeks before hand.

The guy at the desk wouldn't stop talking to a female employee.

Finally a colleague called him to help us.
So we got our stickers and "whispers" (earphones connected to a transmitter for the guide's narrated tour).

We saw the watergate for the palace, then the tour assembled.

The tour was in English and contained a lot of history and explanations as we walked from room to room.

Then we walked up and up to small rooms done in wood whe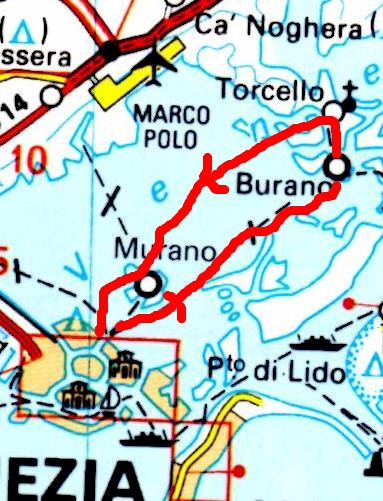 re

the work of the city was done.

There was a lot about Casanova and his jail cell.

We saw the ceiling where he had escaped.

It was a fun tour.
After the tour, wemade the decision to go to the islands, hoping that we weouldn't get caught in the rain.
We struggled to find a boat to Burano so we would not have to go all the way back from San Marco to Fondamente Nuova.

We found it and went on the boat to the Lido.

We stopped at an island we didn't know…like a holiday island.
Next we came to Burano.
We remembered the colored houses from our last trip.

We had lunch, we think, in the same restaurant where we ate on our 2004 trip.

We had wanted to eat quickly so we could get on the boat to Torcello.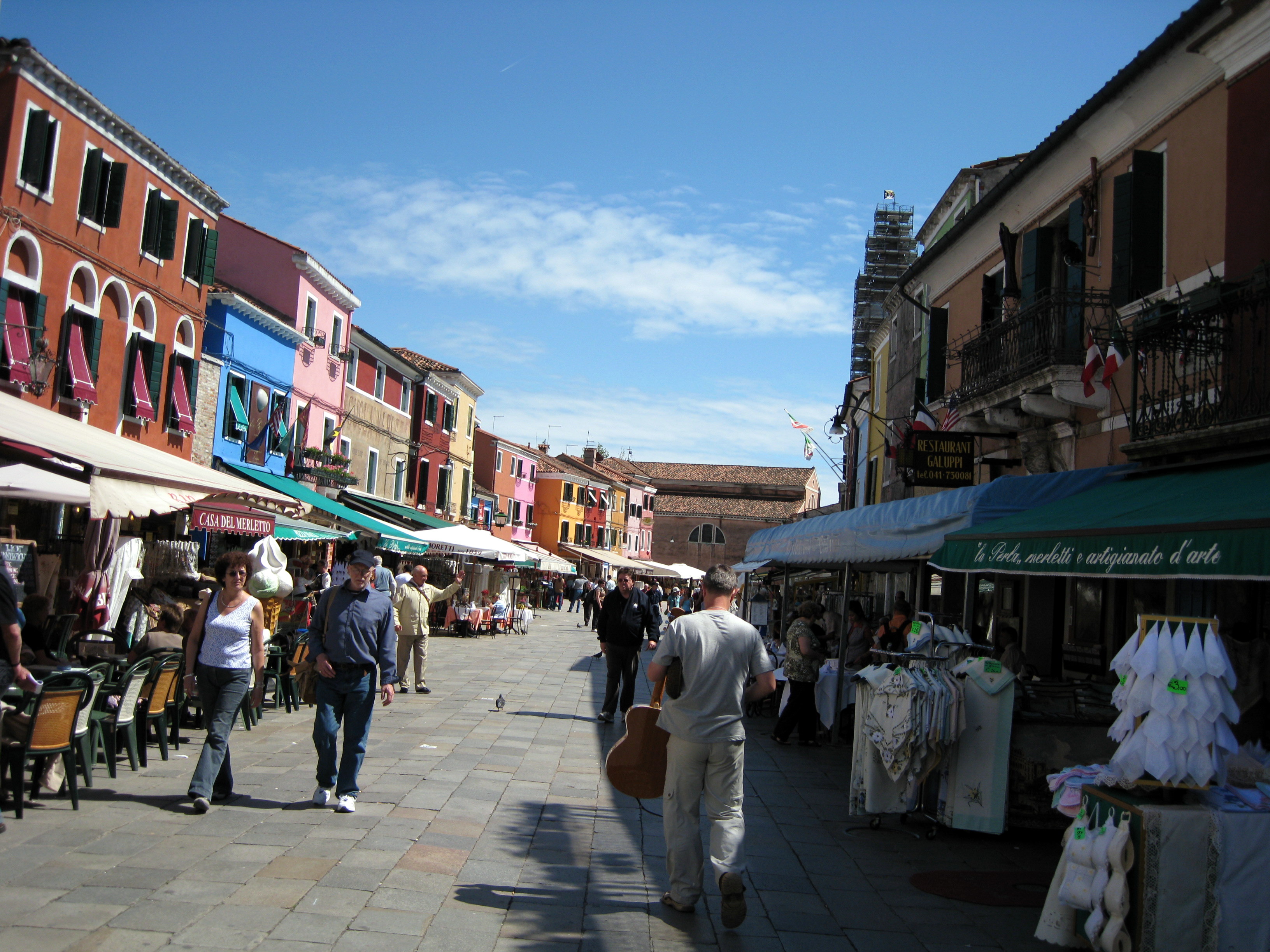 We had an ok lunch.
I had menu #1 so I could get octopus.

My wife had spaghetti and clams which she loved.

We talked to a mother and son from Houston who were in Europe for 40 days.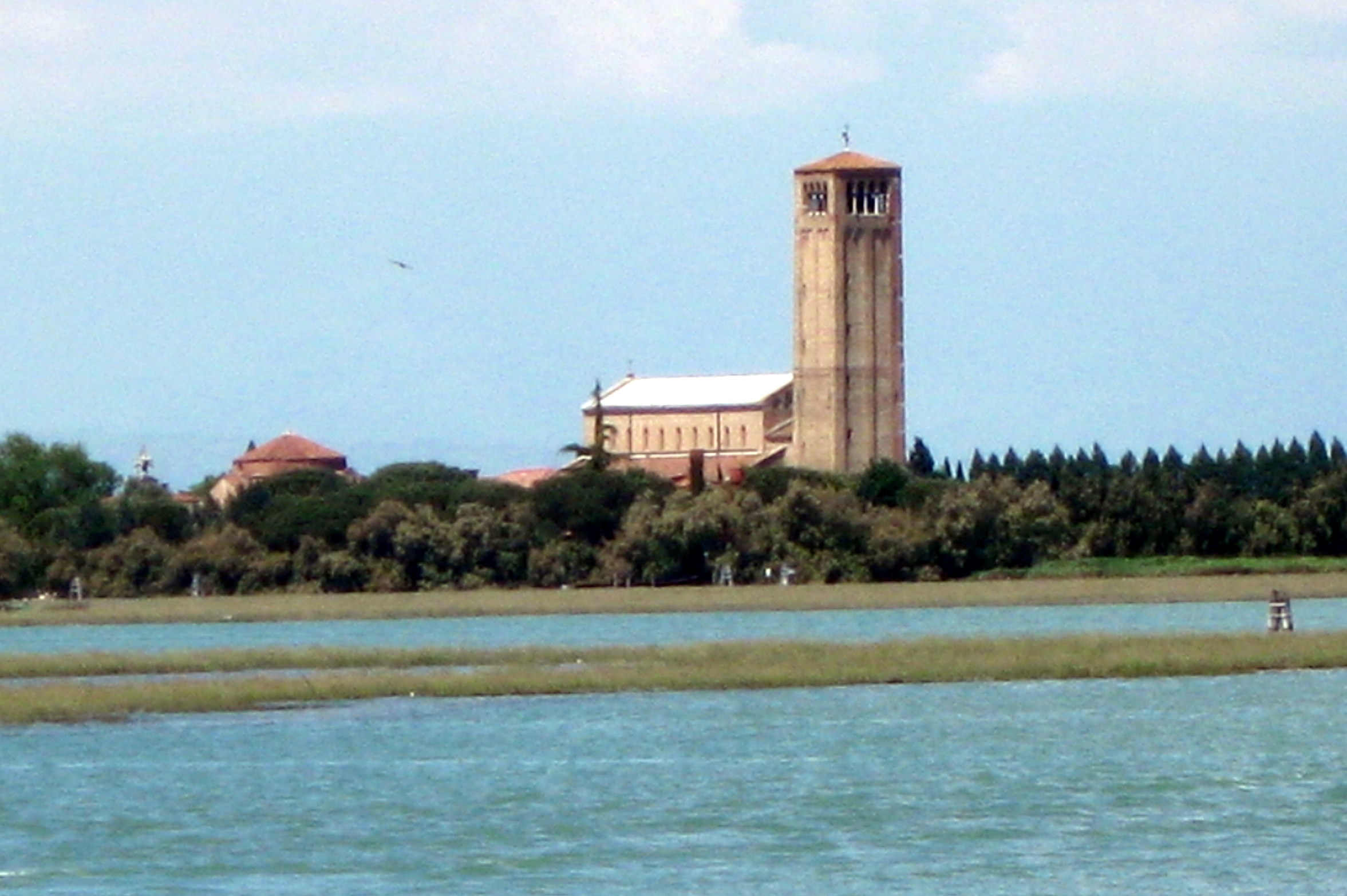 We got the boat to Torcelllo.
The land was very flat and the churches on Torcello were visible from Burano.

While waiting for the boat we met a lady from Louisville and her friend from near Philadelphia.

The sky was beautiful, and I got great cloud pictures.

We landed on Torcello and had to walk some distance on a sturdy brick

walk next to the canal.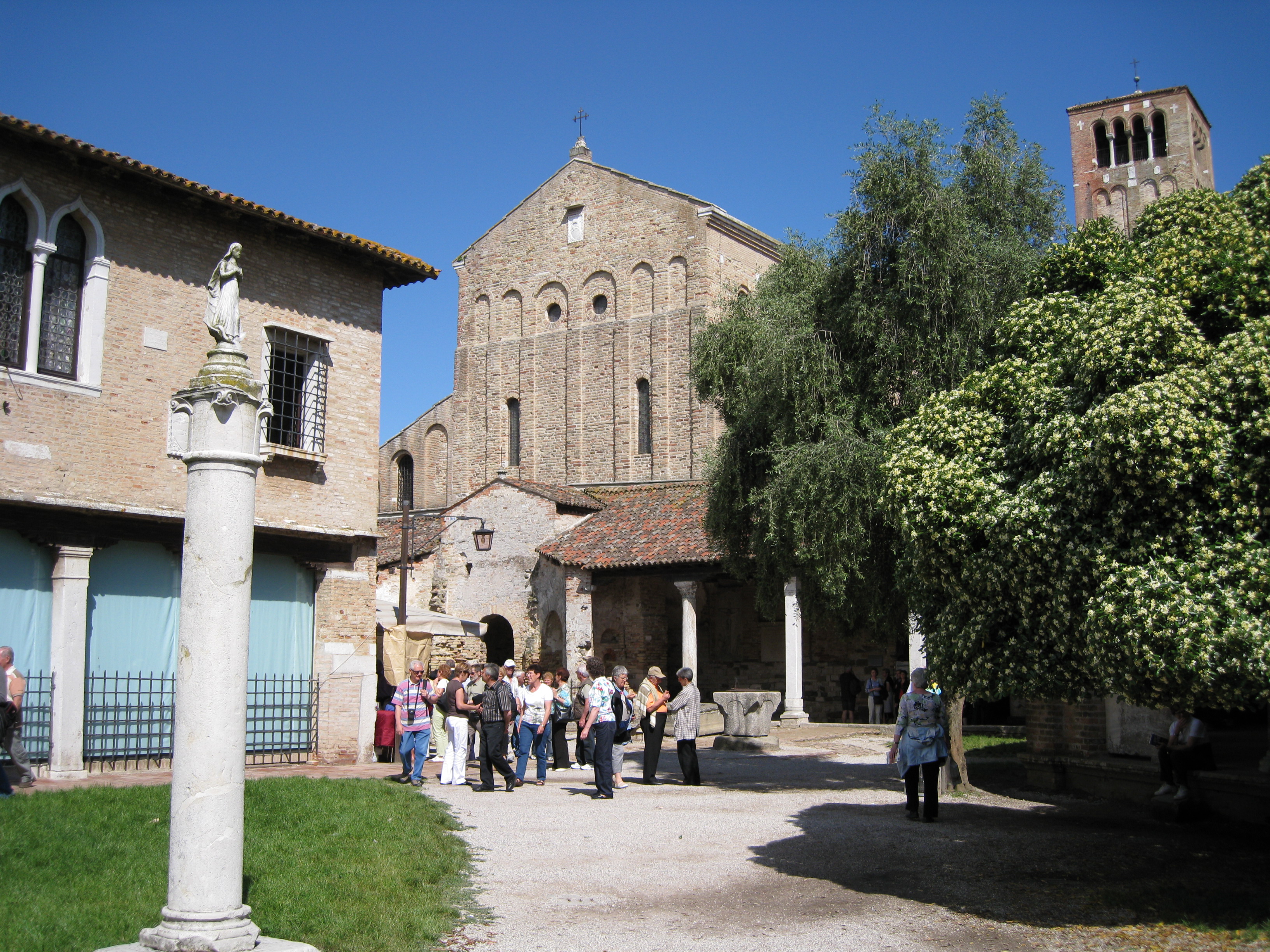 We bought a combination ticket to the museum and the basilica. The museum contained a lot of artifacts brought by the original settlers.

The basilica was awesome.

It was built in 1008 but had a number of restorations. The church had very old mosaics.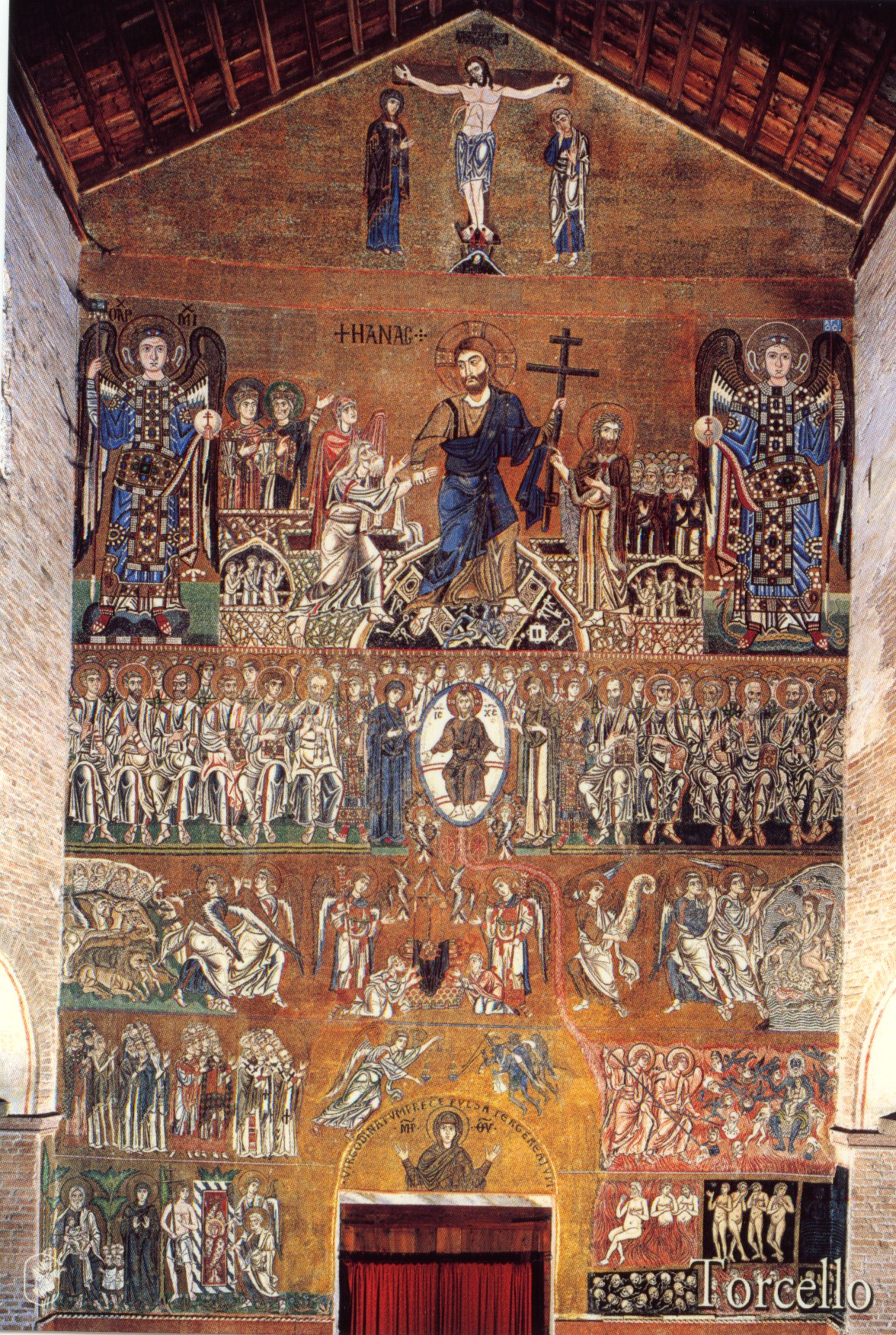 The entire west wall was covered with a mosaic depicting the life of Christ. They didn't allow any pictures.

Next door was St. Fosca which was built in the 12th century in a Byzantine design.

Outside we sat on the throne of Attila the Hun.

We walked back to the dock and took the boat back to Burano where we caught the vaporetto that went by Murano.
We had visited Murano on our first trip and had bought some Murano wine glasses and a vase.

T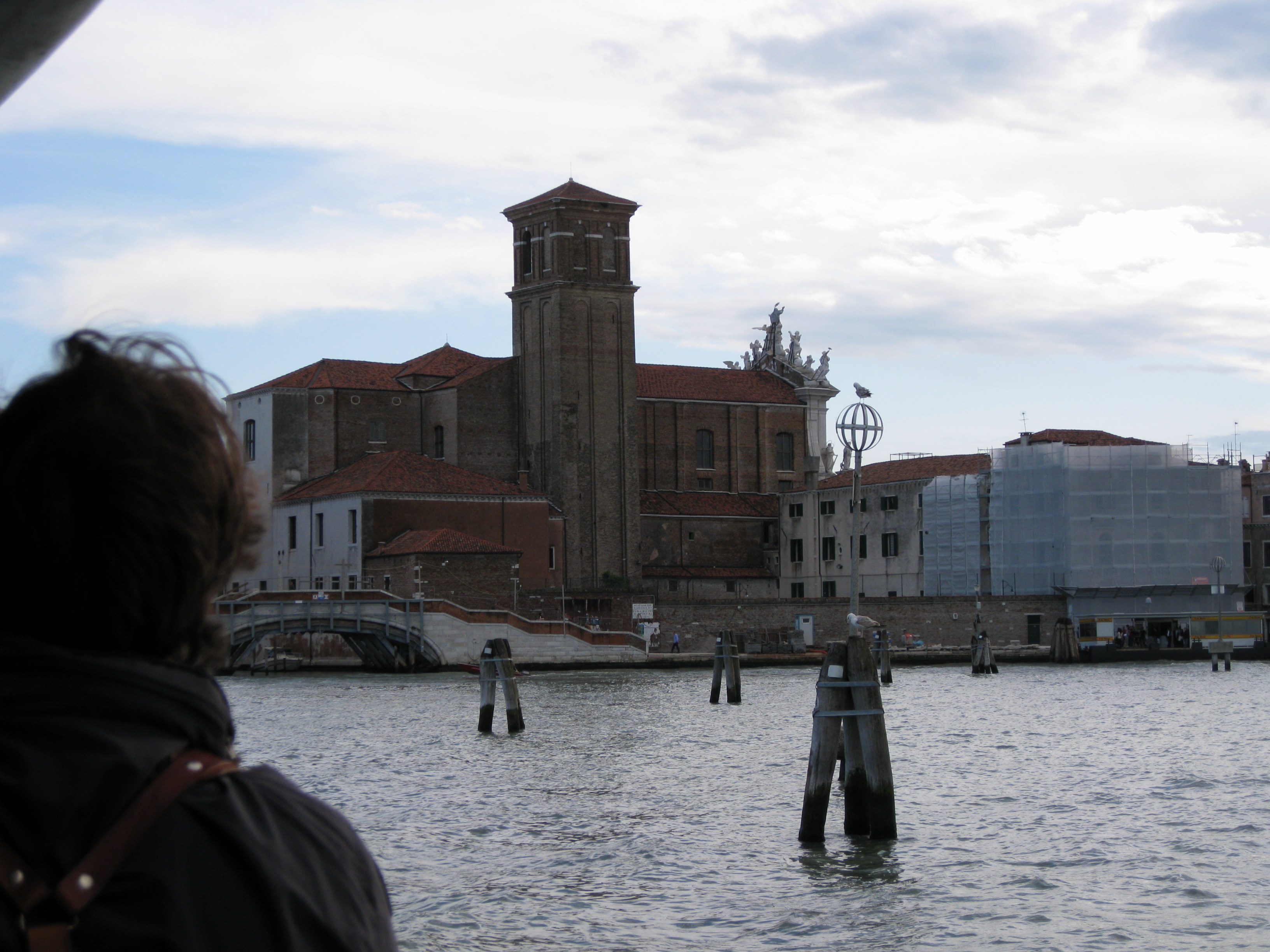 his vaporetto landed at Fondamente Nuova which was a 15 walk from our apartment.

We went to the apartment and had some wine and changed our clothes.
We left the apartment at 7:35 and walked to Fiaschetteria Toscana for dinner.
It is located across the street from San Giovanni Crisostomo (see "G" on the map ).

It is a very popular, and rather expensive restaurant, so we had made reservations weeks in advance.

We had a nice corner table.

Our waiter was very friendly and could speak Italian, English and French fluently.

I had three oysters to start, tortellini

with scallops and veggies.

My wife had pasta with duck.

We shared a grilled bass.

The waiter brought the whole fish for our inspection before cooking it.

They did fillet it.

For dessert I had a crème brulee

and my wife had a raspberry lemon tart.
There was couple next to us who spoke English.

My wife drank the oyster juice which started the conversation.

He was raised in Arlington, Virginia but now spends his summers in Jackson Hole, Wyoming and winters in Atlanta.

We had a lot of good conversation.

The couple, sitting on the other side of us, were from Paris.

They didn't speak much English but my wife did a good job talking to them in French.

Another couple came in and sat next to the first couple.

They were from Philadelphia and had a friend in common.

Small world!!

It was interesting to hear the French couple's comments on the American election and the new French president.

We didn't finish our dinner until about 10:30.

We walked back to our apartment.