Day 11 Saturday, May 17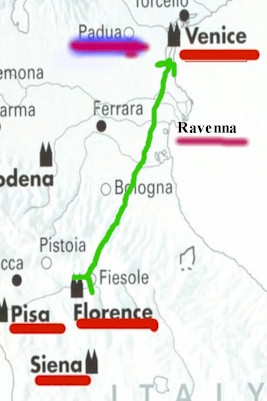 FLORENCE TO VENICE
We got up early and packed.

Left the villa around 8:30 and drove into Florence.

The traffic should have been light for this early on Saturday morning, but it wasn't.

We had mapped out where the Avis Office was. We were depending on our GPS, but the streets were not cooperating.

There were several very complicated circles, one way streets and streets that had been barricaded.

We went around and around with the GPS taking us back to square one and starting over.

The GPS computer lady was spouting off in her broken Italian accent street after street.

I was spouting off words that I won't write on this page.

I thought TomTom GPS was going to blow a circuit, I knew that I was.

Our TomTom had never failed us.

I was about ready to get out and abandon the car.

We finally got there.

The Avis office was on a little narrow street which had a small Avis sign in front of a small garage door.

Inside was a very large garage. They had pity on us and didn't charge an extra day because we were a few minutes late.
The result of this nightmare in Florence traffic occurred about four months later when we received three fines for driving in restricted zones.

Two of them were in the same spot at the same time.

I had a number of communications with the police in Florence via email.

It ended up costing me about $380.00.

I told them what I thought of their system.

I suggested that they plant a tree in the plaza opposite the train station in my name for the $380.00 that I had paid with the following inscription: "Given by a fellow traveler in your fair city who was lost and was FINED….three times". We had read of similar experiences in the Washington Post and several travel sites. Florence may be the seat the enlightenment, but they sure are "un-enlighted" as to how to show courtesy to visitors to this wonderful city. It sure has left us with a very negative feeling towards Florence and ever wanting to go back.
After turning in the car, we walked several blocks dragging our suitcases to the train station.

We ate lunch at McDonalds in the train station, and then caught the 11:40 AM train to Venice and arrived at 2:15.
We bought a phone card as our telephone wouldn't work and called the landlord.

He said to come on.

We caught a vaporetto and got off at Ca' d' Oro.

Through a small street we reached Strada Nova which was a major street.

We had to walk several blocks and crossed two small bridges to get to our apartment. The area of apartment is circled in green on the map on the right. We had rented our apartment months before from www.Papaverorentals.com.
It was locatied at the end of the narrow street.

There was an iron gate which was the entrance pato to our apartment.

It entered into a small court yard.

Our door was on the left and directly in front was another iron gate that led to a large grassy lawn belonging to the apartment on the right.

At the far side of the grassy area was another gate that was access to the canal and boat dock for that apartment.

The landlord met us and showed us the apartment.

It was very nice and located on the ground floor.

In addition to the locked gate at the entrance, the main entrance door had two locks.

One was a dead bolt and the other was a rather elaborate affair that sent a bar up through the top of the door frame and one into the floor as well as side frame.
The apartment had a large living room with an eating area.

There were two windows that looked out into the neighbor's lawn.

Separated by a folding door, was a small kitchen.

We had two bedrooms, one rather large and the other much smaller.

Our bedroom had a canal running right outside the two windows.

It proved to be rather comforting to hear the sound of the water when we were in bed.

Every once in a while a small boat would go by.
We unpacked some and then went in search of a grocery store.

We had done our research and knew the name and location of the grocery. We found it several blocks from our apartment on the Strata Nova.

The store was rather large and had a good selection of fresh meats, cheeses, wines and other goodies. We got breakfast stuff and some snacks.

On the way back we stopped in a bakery and got some pastries.

After taking the food back to the apartment, we went out in search of dinner.
We found a small café on the Strada Nova where we had a drink, and then went to another restaurant which was nicer for dinner.

Even though it had outside dining, it had started to drizzle and had turned cool so we chose to eat inside.

I had pasta with scallops and mussels, and my wife had pesto spaghetti for starters.

We shared a delicious bass which was filleted at the table.

It was a very nice dinner.
It had stopped raining so we decided to go to San Marco Square.

We took the vaporetto…. getting on and off at the right stops.

We walked around for a while.

It was nice to be back in St. Mark's square again.

We didn't stay too long as we were both tired.

We had a lot of suitcase carrying and lifting today.