Day 17 Friday, May 23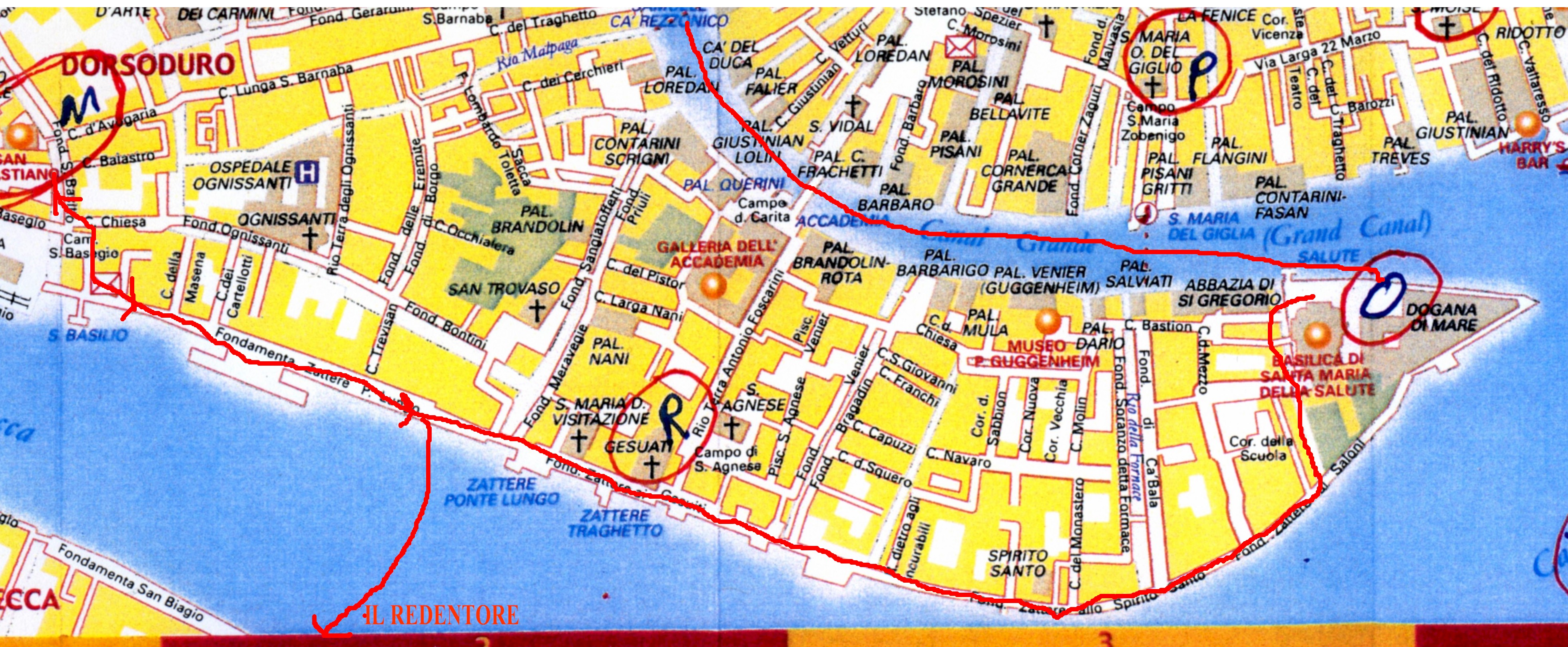 VENICE
This is our last day in Venice and my 70th birthday.

We slept a little late and packed a few things.

It was warm out with a beautiful sky like yesterday.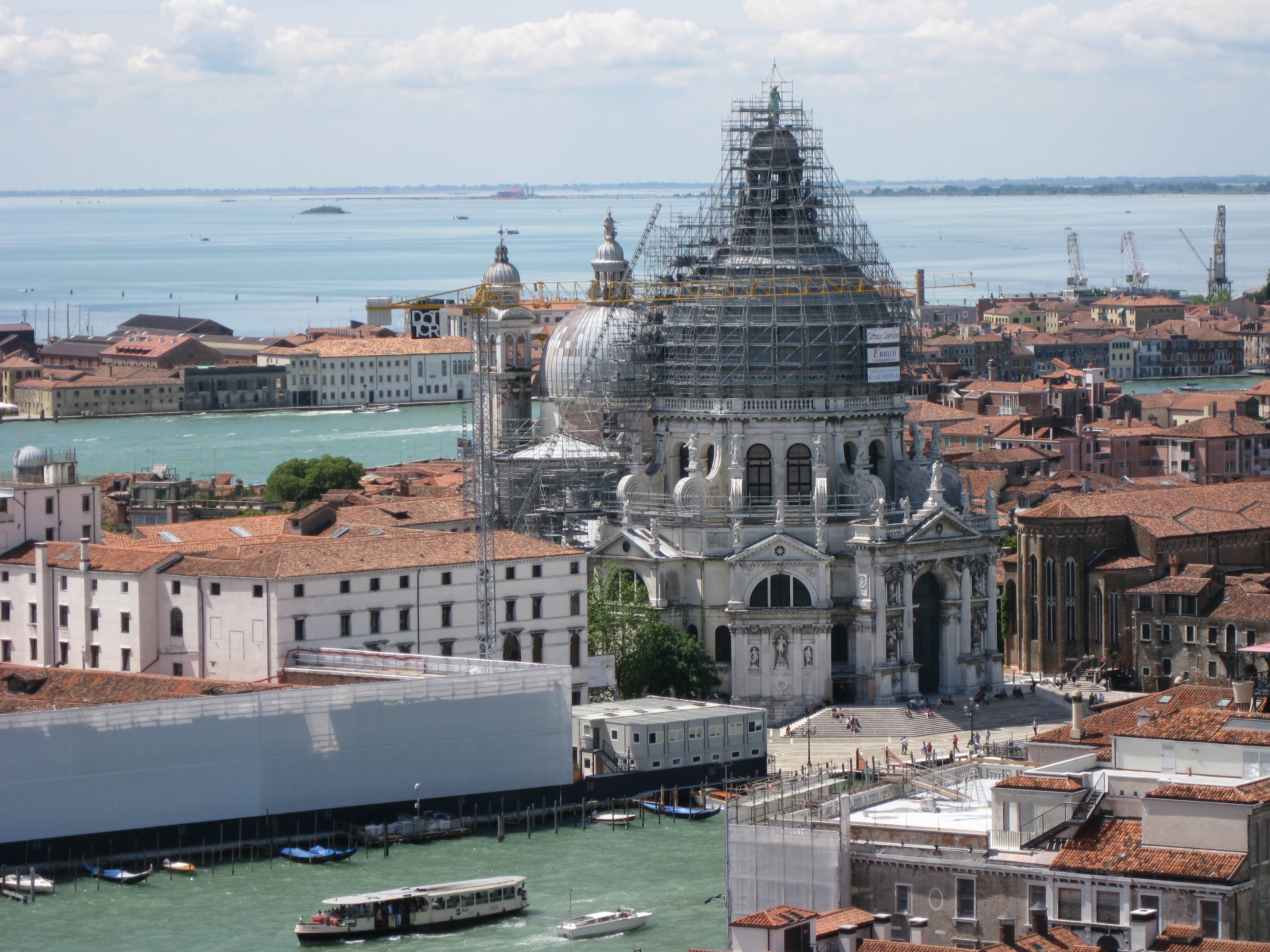 We took the vaporetto
to

Santa Maria della Salute

(see "O" on the map), which is known as the Crown Jewel of 17th Baroque. It was begun in 1631 by Baldassare Longhena and took fifty years to build.

Longhena died 5 y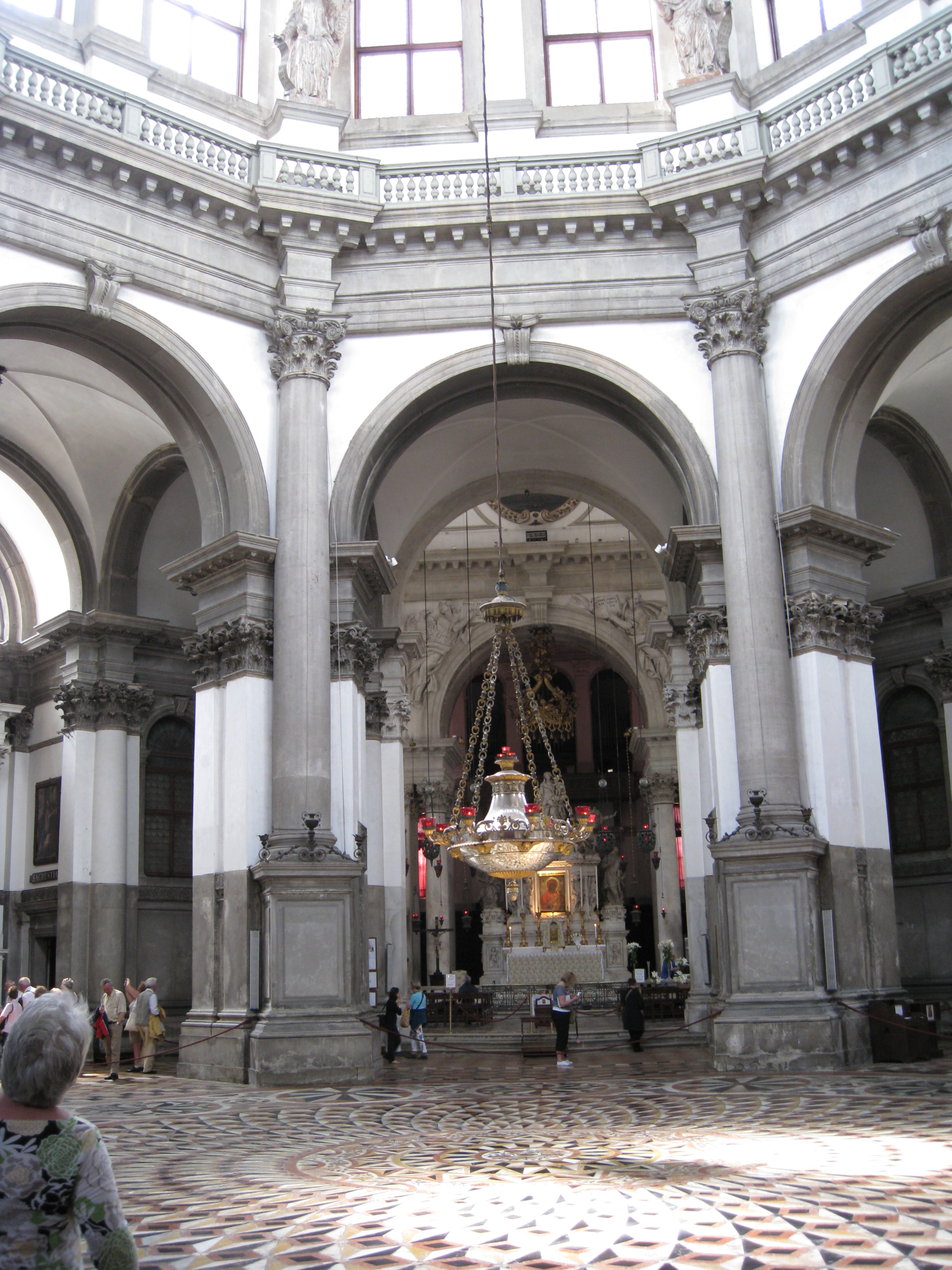 ears before it was finished.

It contains 125 statues as well as paintings by Titian and Tintorettos.

It was very open with a large central dome and a lot of side chapels.

The dome was being restored and was enclosed in scaffolding.

It is very difficult to take a picture except from the water as it sits on the point where the Grand Canal meets the Guidecca.
We started to walk to Santa Maria del Rosario (see "R" on the map) when it began to rain but we got in before it began to rain hard.

This church was built in 1743 by the Dominicans when Gesuati order was suppressed.

The façade reflects Palladio's Il Redentore.

The inside was richly decorated.

There was a large ceiling fresco

of the

Life of Dominic

by Tiepol.

When we came out it was raining hard so we stopped in the nearest café for lunch. I breaded veal and french fries and my wife

tomatoes with buffalo mozzarella cheese.
By the time we finished lunch, it started raining again, so we took the vaporetto to the next stop so we could visit San Sabastiano (see "M" on the map) which was a 16th century church.

Veronsese had been commissioned to decorate the entire church.

It had a beautiful sacristy.
Our final church stop was Il Redentore

(see "Liii on the
map) which was built in 1577 in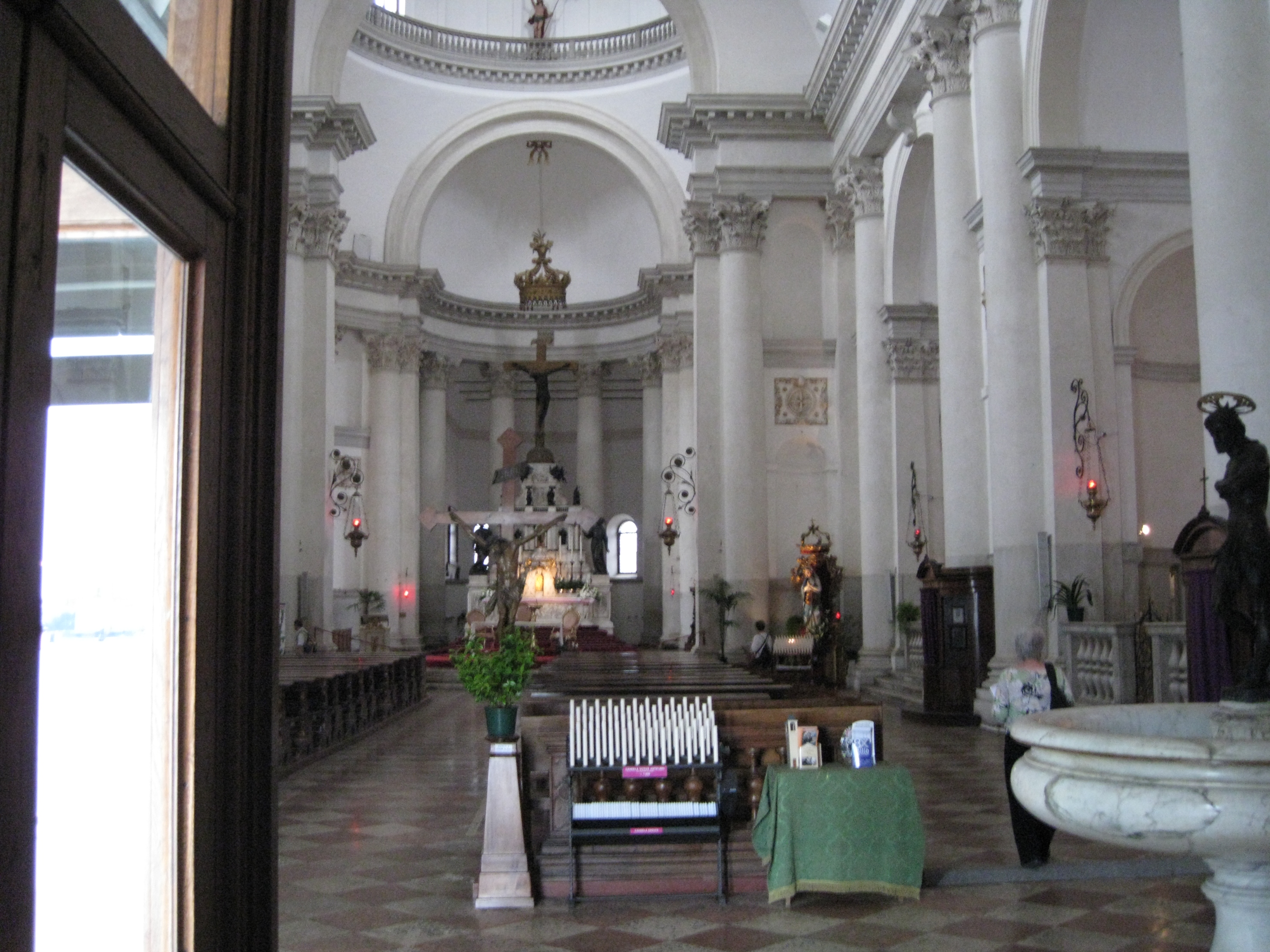 thanksgiving for the end of the 1576 plague.

It is a beautiful example of Palladio's work.

It has a classical interior with paintings by Veronese and Vivarini.
We were rather close to St. Georgio Maggiore (see "Lii" on the map). This is Palladio's finest design.

We had spent considerable time in St. Georgio on our 2004 visit to Venice so we did not stop for a revisit. I will write about it when complete Italy 2004 and make a link to it.

It continued to rain off and on.

Since it had been such a beautiful day when we started out, we had not taken our rain jackets or umbrella.

We decided to take the vaporetto the long way home.

We passed a lot of huge cruise ship that we docked.

We got off at the Rialto Bridge.
We had dinner reservations at the Cipriani Hotel on the Guidecca which is a very fancy place.

This was another "need to" make reservation well in advance.

They had their own boat that took us from St. Mark's Square to the hotel.

We ate outside near the water.

Two nights dining with such a view can really spoil a person.

It was

not too far from where we had dinner at Harry's Dolci.

I guess we ate too much celebrating my 70th birthday because we didn't write down what we ate.

Whatever it was, it was delicious and expensive.

It was a very nice birthday.
The next morning we got up early and pulled our suitcases several block to Fondamente Nuove near where we ate on Monday night to caught a boat to the airport.

We flew to Madrid where we had a 6 hour wait for our flight home.
This was a wonderful vacation. We did not feel the pressure of moving from town to town as we have on other trips. It was nice to have a whole week in Florence and a week in Venice....although a week would never be enough for Venice. We could go back to Venice tomorrow. We also enjoyed the days that we had in Padua and Ravenna. If we had it to do over, we would have spent several days in Ravenna.