Amsterdam and Poland 2017
Day 10 Auschwitz - Wroclaw
Tues, June 13
Today was a long, and very emotional day. We left the hotel in Krakow at 7:30 and arrived in Auschwitz about 9:30. We had an Auschwitz guide who talked through our headsets. It was a 2-hour tour that took us through part of the compound and into several of the 28 barracks of the concentration and extermination camp which was established in 1940.
AUSCHWITZ
In 1944, about 16,000 prisoners were incarcerated there (9000 Jews, 4000 Poles, and 3000 prisoners of other nationalities).

We into several barracks where there were displays, especially photos on the walls. It was overwhelming.

We saw rooms filled with shoes, another with suit cases, another with pot and pans. One with hair. We went into the gas chamber and the crematorium. This experience gave everyone an unbelievable feeling in their gut.
AUSCHWITZ II - BIRKENAU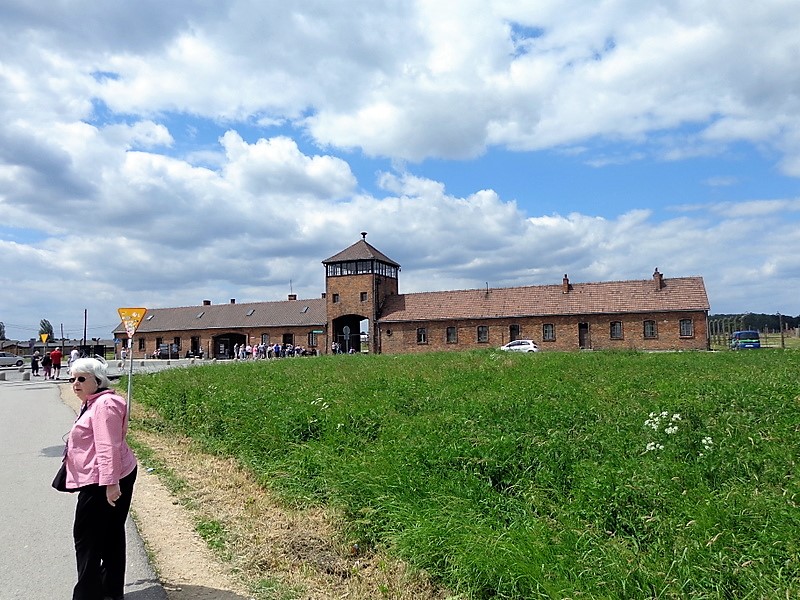 We left Auschwitz with and went a couple of miles to Auschwitz II - Birkenau. The railroad tracks ran through the main entrance building.

We went into several barracks that were used for housing, four story cots each holding 4 people.
A huge toilet room with a long row of holes in a long bench. A shower room.
The stories that the guide told were unbelievable. These people were brought in by train, thinking that they would have a new place to live, instead their belongings were taken from them, they were stripped and went into the gas chamber and were exterminated immediately and then moved next door to be cremated. We saw both rooms.
We stopped at a restaurant nearby and had a lunch and then drove for three hours to Wroclaw, arriving at 5:00, checked into our hotel which is called the Art Hotel. It is a beautiful old building, but the rooms are rather small compared to the other rooms that we have had.

Then at 6:30 we walked to the Market Square which had beautiful old buildings. We went upstairs in the Karczma Lwowska restaurant located on the square, and had a great dinner.
The dining rooms were uniquely decorated with various plants and flowers. We sat at tables for four which contained interesting starters, then soup. Next was a flaming plate that had all kinds of meat- sausages, rib, chicken plus vegetables. For dessert, we had an apple cake.
Today our experience something like going to the Holocaust Museum in D.C. but the difference is that this is one of places that Holocaust actually took place and millions of innocent people were killed.
We walked 6 miles today and climbed a number of steps in the Auschwitz barracks.
Day 15 coming soon