ENGLAND 2003
Day 9 , April 13, 2003 -
Sunday
From Bath to London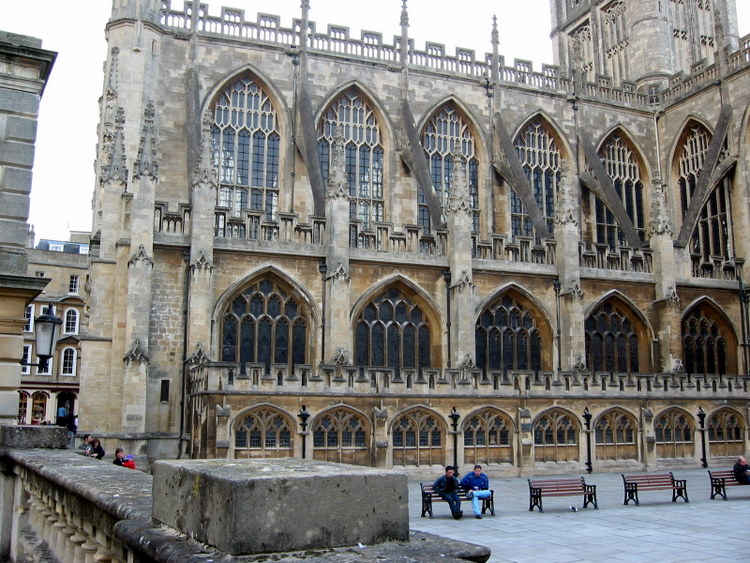 We got up early, packed our bags and had a nice buffet breakfast in hotel dining room.
Today is Palm Sunday.

We had planned on attending the 9:15 service at Bath Abbey.

When we arrived at the Abbey we found a donkey out in front along with the choir and congregation.

We processed around the entire Abbey as we sang "All Glory Laud and Honor" and "Ride on, ride on in majesty!" with the donkey leading the procession.

We entered the church for the morning Eucharist.

The church was full. It was a great service and the Abbey looked beautiful.

After the service, we had a quick lunch and headed for the train station as we had a 11:23 train to London.
We arrived at Paddington Station an hour and a half later.

We took a taxi to the John Howard Hotel on Queen's Gate.

We were only several blocks from Royal Albert Hall, which was closed.
We sat in Kensington Gardens, which was across the street and had ice cream.
The Albert Memorial was commissioned by Queen Victoria in memory of her husband, Prince Albert who died in 1861. The memorial was designed by Sir George Gilbert Scott in the Gothic revival style. The memorial is 176 feet tall, took over ten years to complete,
We walked around the area and found a nice restaurant across from the hotel for dinner.
Day 10, April 14, 2003, London/Home
After breakfast in the hotel breakfast room, we took a taxi to Heathrow Airport for our 12:40 pm flight home.
We had a wonderful trip and enjoyed all of the Cathedrals and other places of interest.
We hope to go back to England and explore more churches to the north of London.