RENAISSANCE ARCHITECTURE
1300-1650
The Renaissance, which is the time of the revival of classical world of Greece and Rome, began in Florence, Italy. The dates are approximately from 1300 to 1650. The Renaissance originated in the movement known as humanism which was a revival of interest in classical literature and philosophy. As it broadened socially and intellectually, it took in classical law, history, art and architecture. Countless books have been written on the Italian Renaissance by scholars who know far more about it than I do. I would also highly recommend a 36 lecture course Dr. Kenneth Barlett on the Italian Renaissance produced by the Teaching Company. We have enjoyed many of the fruits of the Renaissance period, particularly the art and architecture. My purpose for Cathedral Quest is to write about our experiences with these Renaissance treasures plus pointing out some of the features of each church that make them unique.
Architecture plays a key role in the Renaissance. The ten volumes of Vitruvius' De Architectura treatise( a translation by Morris Morgan ) that describes the architecture of classical Greece and Rome had been discovered in 1414. Vitruvius' writing triggered an architectural revolution. From this point onward, models drawn from classical antiquity determined architectural design.
The Renaissance style places emphasis on symmetry, geometry, proportions and regularity of components as had been used in the architecture of ancient Greece and Rome, particularly Rome.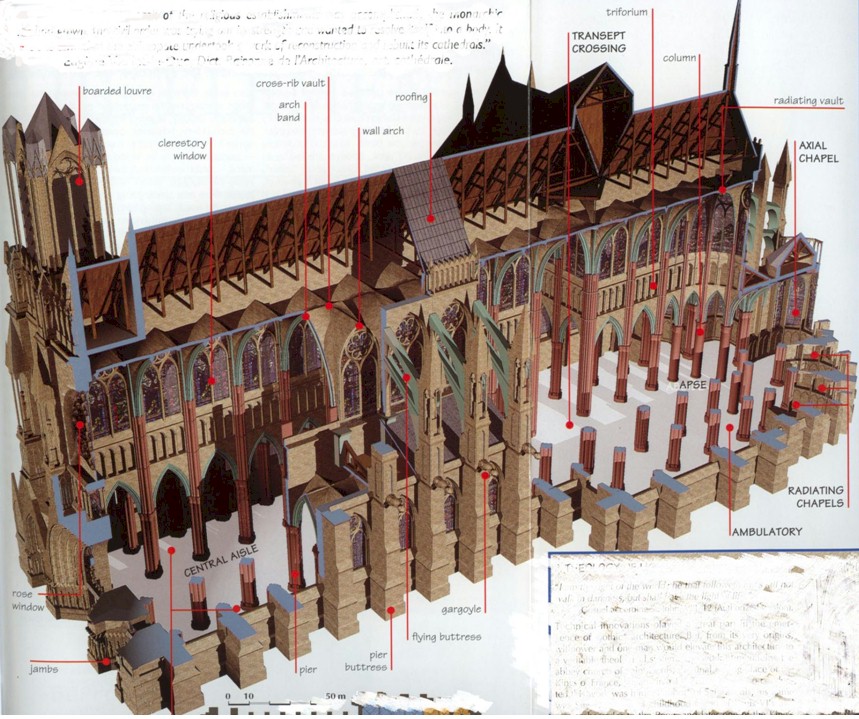 Beginning in the 1000's, the Romanesque style of churches were built throughout Europe. There were major problems with structure which lead to the beginning of the Gothic style with its pointed arches, vaulted ceilings, flying buttresses, great heights, and walls with magnificent stained glass windows. While Gothic flourished in France, and soon moved to other countries, it had little, if no, influence in Italy with the exception of Milan Cathedral.
The cathedrals and churches that we visited in Italy were unlike churches of the Middle Ages. The Renaissance goes further back than the Middle Ages to the buildings styles and forms of the ancient Greek and Roman temples, changing them to conform to the use as a Christian church. In the Renaissance cathedrals and churches, we do not find high vaulted ceilings, flying buttress flanking the outside walls, walls of beautiful stained glass or exquisite facades covered with hundreds of statues.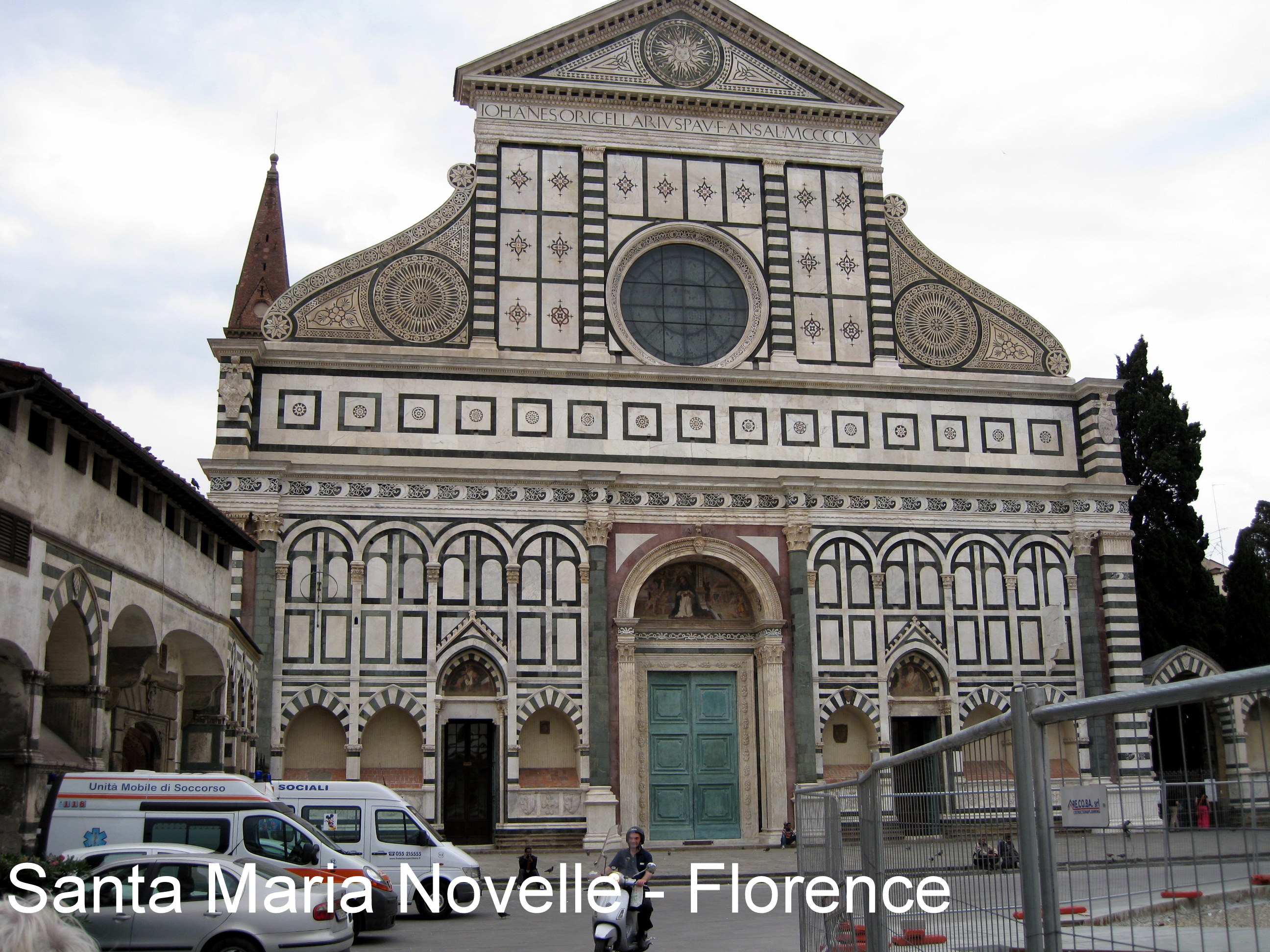 Most Renaissance church facades are rather plain in comparison to Gothic Cathedrals. I personally do not find the exterior of Renaissance church as "breath taking" as the Gothic. Maybe you can tell that I am partial to Gothic!

In Florence, Venice and Padua, we encountered several churches where the façade had never been completed. The west front was made of rough cut bricks. A number of Renaissance churches did not have facades added until as late as the 19th century.
Santa Maria Novelle in Florence, picture above, was completed in 1357, but its facade was not finished until 1470.

Most of the 24 churches that we visited in Venice had the classical Greek and Roman style facade with a variety of columns. I will point these out when we visit Venice in 2007.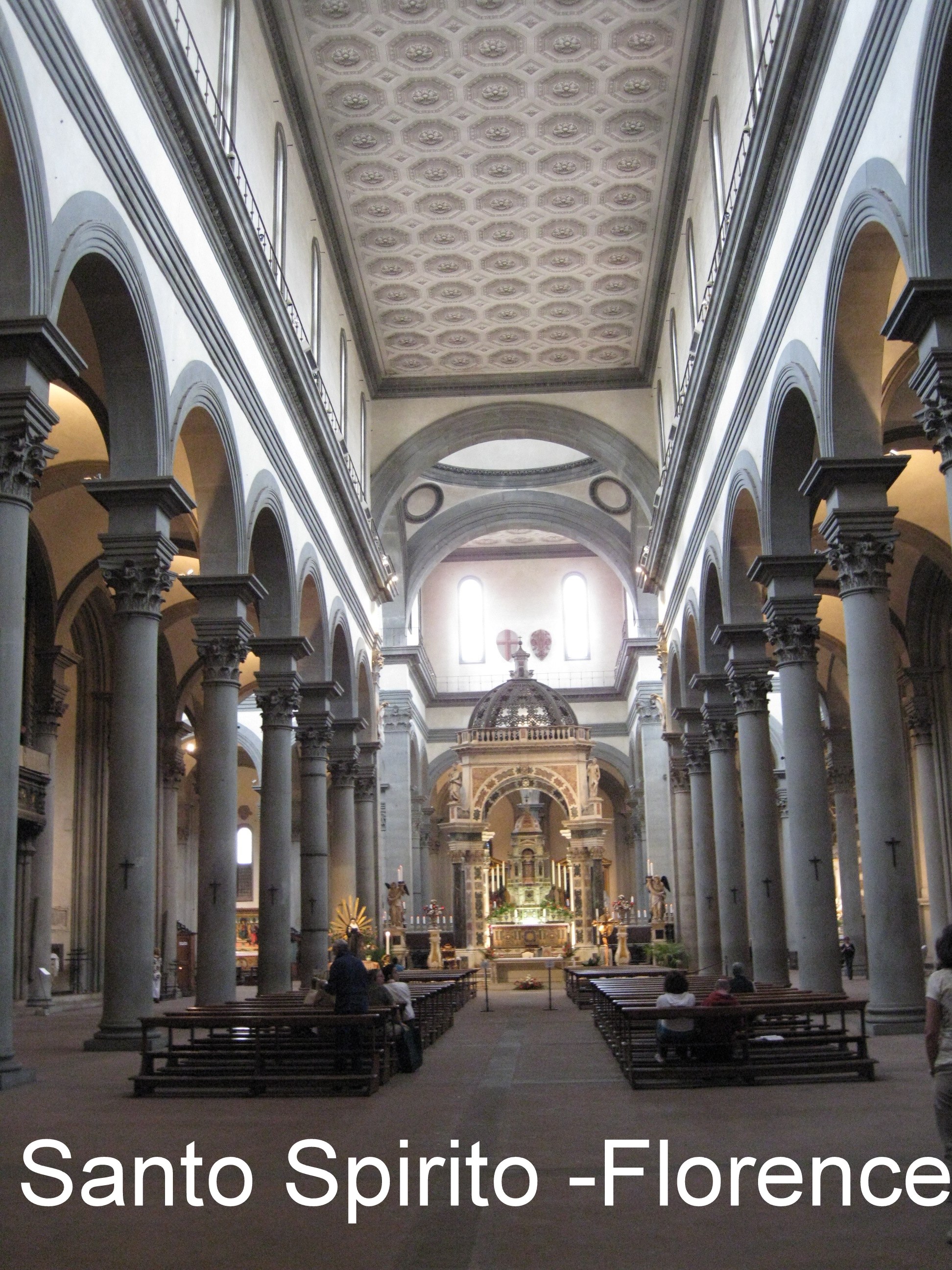 Upon entering the Renaissance style church, our eyes were not lifted to a great height as in the Gothic churches.

Most Renaissance churches have either a barrel vault or a flat ceiling.

Many flat ceilings are coffered, that is the ceiling is covered with a series of decorated squares.
Instead of stone walls hosting a multitude of windows, in the Renaissance church, the walls are generally smoothly plastered and painted a chalk white.

Stained glass windows are not often used, and if so used they are not very large.

Many of the interior walls are divided into small niches for a small chapel or just an altar with either a painting or a sculpture above it.

Since the Renaissance was a period of high art, the churches are filled with wonderful works of art by the great Italian masters.

I will mention these by name as we explore each church in our quest.

The exciting part of seeing these paintings and sculptures, for us, was to have studied these artists and their works of art in a 36 session lecture series on Renaissance Art taught by William Kloss on a Teaching Company DVD.

Also very edifying were several courses on art history that we took at the Smithsonian Resident Associates program taught by Dr. Karin Alexis and Dr
.
Judy Scott Feldman
. We made a list of where these works of art were located so we could see them in person in the various churches and museums. Doing our "homework" before traveling certainly made our quests more enjoyable.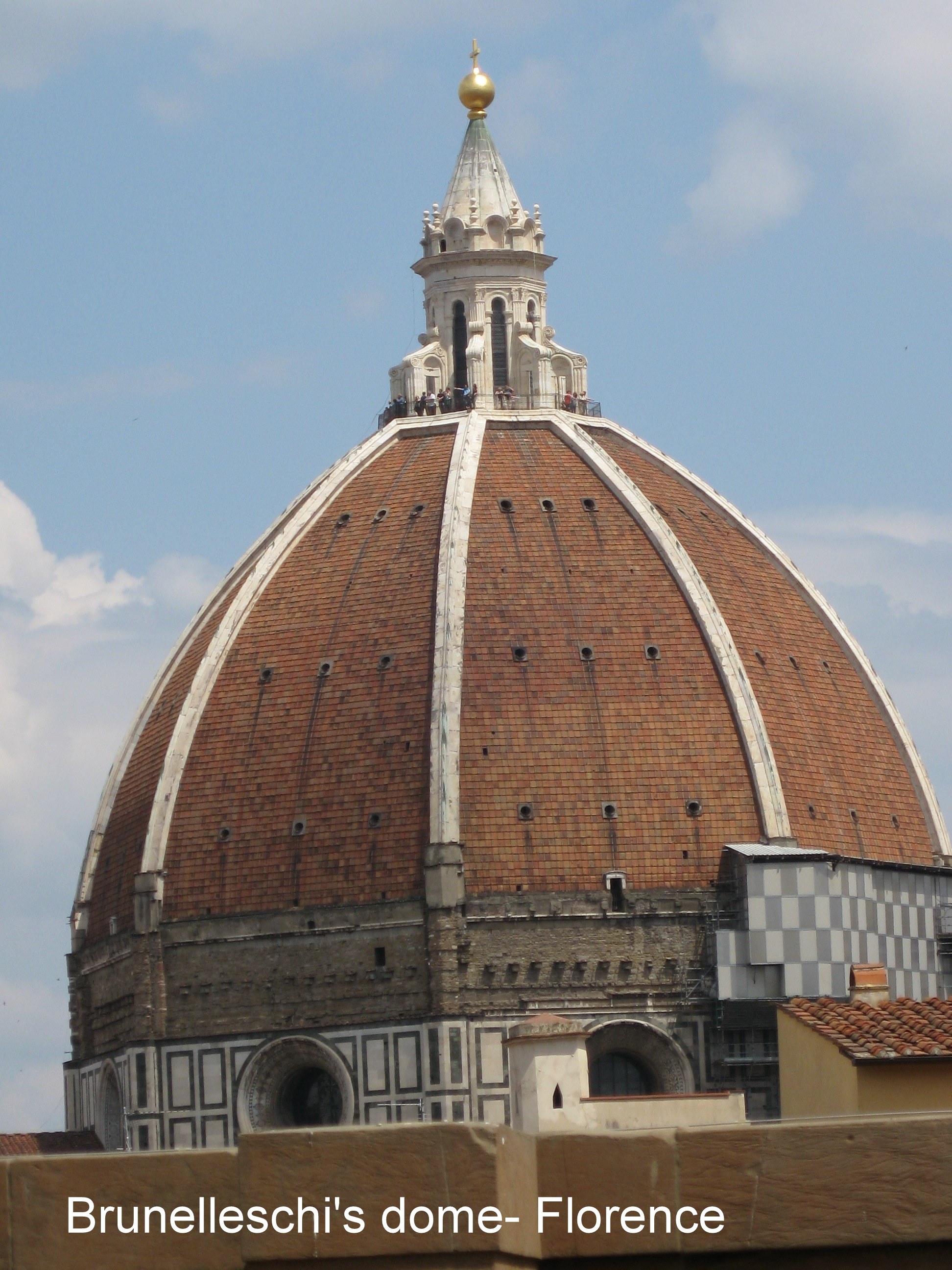 One aspect of Renaissance architecture that we did not find in Gothic architecture was the use of domes.

One of the earliest examples of the use of the dome is the great dome of the Pantheon in Rome built in the early second century.

Most scholars give credit to Filippo Brunelleschi as one of its innovators in the Renaissance period.

The study of how he built the dome on the cathedral in Florence is fascinating.

The story of Brunelleschi life, itself, is fascinating.

I would recommend as excellent reading, Ross King's book -Brunelleschi's Dome.

Since our first visit to Florence was part of a tour, and we were in and out of the Florence Duomo (cathedral) quickly, with little time to explore it. I will give a detailed description of Brunelleschi's Dome on our second trip to Italy in 2007. We were in Florence for a week and spent a lot of time in the Duomo.

Another example of an outstanding dome is Bramante's plan for the building of the dome for the newly constructed St. Peter's Basilica, a dome continued by Sangallo, Michelangelo, and finished by Giacomo della Porta.

I will write more about St. Peter's and its dome in Italy 2004.
Renaissance Art and Architect cover three periods:
·

Renaissance (ca. 1400-1500) also known as the Quattrocento or Early Renaissance.

Brunelleschi, Michelozzo and Alberti are associated with this period.
·

High Renaissance (ca. 1500-1525).

In this period we find Bramante, Sangallo and Raphael.
·

Mannerism (ca. 1520-1600). Peruzzi, Giulio Romano, Michelangelo, Giacomo della Porta, and Andrea Palladio are associated with Mannerism. Mannerism led to the Baroque style.
Renaissance architecture was not limited to churches.

One does not see many, if any, Gothic style public buildings.

The Renaissance style was used for many public buildings or city palaces, villas and gardens andquickly spreading to other countries.

Both Florence and Venice are filled with all kinds of Renaissance and Baroque buildings which we will illustrate in Italy 2008.
Below is a list of the Renaissance churches that we have visited.

As I write about these churches on the various travel pages, I will provide a link from the church listed below to a full description of that particular church.
RENAISSANCE 1300-1650

Present

Finsh

City

Country

Church Name

Started

Date

1250

1443

Venice

Italy

1279

1357

Florence

Italy

1300

Soisson

France

St. Jean

1300

Florence

Italy

1301

Padua

Italy

1307

Padua

Italy

1313

1504

Venice

Italy

1337

Florence

Italy

1351

Venice

Italy

1357

1420

Florence

Italy

1386

1809

Milan

Italy

Milan Cathedral (Gothic style)

1396

Como

Italy

Duomo

1400

Rouen

France

St.Maclou

1400

Trier

Germany

1400

Padua

Italy

1400

Venice

Italy

1414

Trier

Germany

1421

Florence

Italy

1435

Florence

Italy

1481

Venice

Italy

1489

Padua

Italy

1489

Venice

Italy

7th century

1492

Venice

Italy