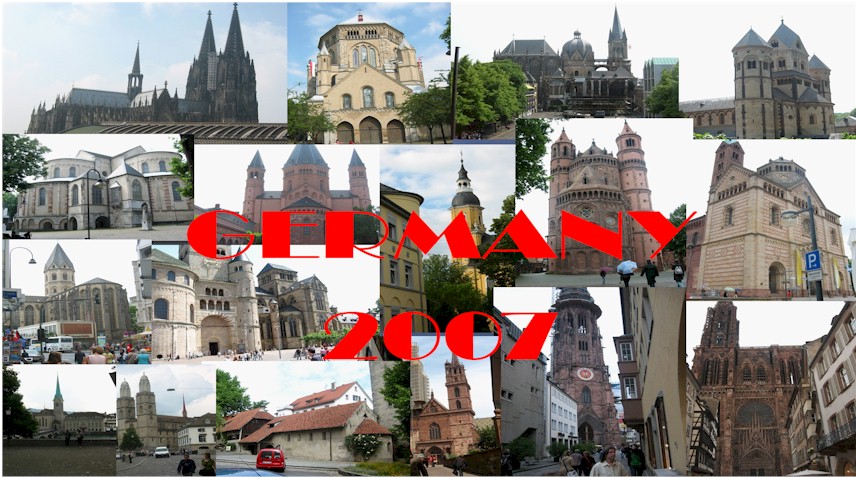 May 22- June 5

, 2007
PREFACE
For this year's CATHEDRAL QUEST, we decided on visiting Germany starting in Cologne and traveling south along the Rhine River.

We were feeling confident that we could drive in Germany since we had been so successful in our "quest" in France in 2005.

We spent many months reading about German cathedrals and their locations.

My reservation expert wife booked wonderful hotels and a few restaurants, and reserved a car.

This year, I had invested in a TomTom GPS with European maps.

We had a great time playing with all kinds of travel options in planning this year's CATHEDRAL QUEST.
Our hotel in Cologne had a spectacular view of the Cologne Cathedral.

After several days exploring Cologne with a side trip to Aachen, we pick up our rental car and headed south with one or two stops in Mainz, Trier, Worms, Speyer, Freiburg, and Basel.

Then we drove across Switzerland to Lindau which is on Lake Constance (the Bodensee).

This was my wife's down time- no "cathedral quests".

We had three wonderful days with a marvelous view from our hotel balcony of Lake Constance and the Alps.

We took a side trip to Meersburg Castle (another model that I had made).

While planning this CATHEDRAL QUEST ,

I had convinced my wife that I wanted to see Mad Ludwig's Castle , Neuschwanstein

since I had made a model of it. So we had a night at Hohenschwangau.

It was well worth the trip.

We drove back across Switzerland for two days in Zurich before flying home. On this cathedral quest we visited nine cathedrals, thirteen other historic church and three castles.

We enjoyed the castles.

I may take up a "castle quest" in my next life!!
The GPS was fantastic.

It took us from door to door and even if we made a wrong turn in one of the traffic circles, it immediately got us back on the correct route.

Don't let the thought of driving on the autobahn scare you.

They are a lot safer than the highways we experience around D.C.

!!!

The GPS's computer's voice had a hard time with a few of the German names.

Again we didn't have any problems with the language.

My wife had lived a few years in Germany and many words came back to her.

For the most part I just kept my mouth shut.