For our ninth "Cathedral Quest", we decided to visit Southern France because there were many interesting churches, abbeys and fortresses we wanted to see.
Many of our choices were based on the eleven models that I had made - see Church Models.

My wife spent many months investigating and making reservations for hotels, apartments and wonderful restaurants.

As we have discovered in the past, it is advisable to make these reservations at least four months in advance.

I would also advise making rental car reservations well in advance.

Last year, we were able to book several operas and concerts in the major cities.

We couldn't find any such events in the cities that we were to visit on this trip, the days that we would be in town.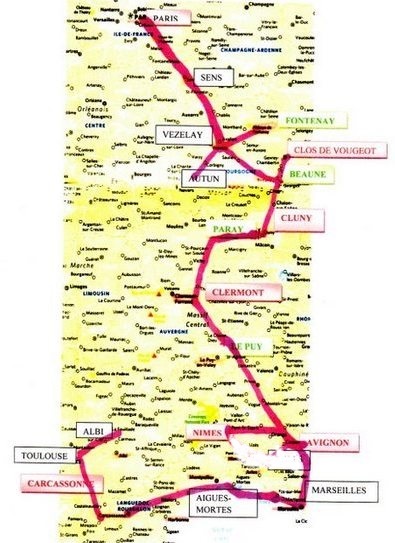 We left home on Sunday, September 2, left our car at the Crown Plaza hotel in Herndon, Virginia, and took their shuttle to Dulles Airport.
About four months prior to the trip, my wife found a British Air flight from Dulles to London Heathrow with a two hour break before changing planes to Paris.

It was a much less expensive flight than flying directly to Paris.

We spent the night in Paris, and caught the train the next morning to Sens.

We spent the night in this delightful town, visiting the cathedral, and picking up our Avis rental car. In the next three weeks, we would put 1400 miles on our little WV Polo.
From Sens, we headed south with our first two nighter in Vezelay.
We took at day trip to Fontenay

Abbey

(model ).

It was a very good adventure.

Our next stop was Beaune where we enjoyed exploring Hospice de Beaune (model) and the surrounding

town with a day trip to Autun to visit St. Lazarus

and back tracking to visit Citeaux Abbey and Chateau du Clos Vougeot (model) on the other side of Beaune.
Day 7 and 8 found us enjoying Cluny, the site of the former Abbey (model).
One day, we drove a short distance to attend a noon day service at Taize.

On our way to Clermont Ferrand on the 9th day, we stopped to visit the Basilica in Paray-le-Monial (

model

).

The purpose of our trip the Clermont - Ferrand was to visit a "email friend", Allain du Bussac, the founder and owner of L'Instant Durable paper models.

Many of my models were published by his company.
Traveling south again, we stopped for a long climb to the cathedral in LePuy-en-Velay
(

model

)

before heading to Avignon for four nights.

There was much to see in Avignon, especially the Palace of Popes (model).

One day we took a day trip and visited the Ponte de Gard (model) .
Our southward journey ended in Marseille for three nights.
There are several interesting churches in Marseille.

We also took boat rides to two nearby islands.

From Marseille we drove south west stopping in the Camargue to see the wonderful wildlife especially the pink flamingos before arriving in

Aigues-Mortes where we enjoyed the walled city plus a visit to the salt marshes.
A much anticipated visit was our Day 18 in Carcassonne (model) were we spent the night in a wonderful hotel wihin the fortress walls.
Leaving Carcassonne, we followed

the path of the Cathars to several small towns before arriving in Toulouse, our final destination.

We enjoyed four nights in Toulouse with visits to several wonderful churches plus a day trip to Albi.

We flew home on September 25th from Toulouse via London Heathrow.
It was a wonderful trip with many exciting sites to visit, wonderful hotels and grand dining.