FRANCE 2012
DAY 1, MONDAY,SEPT. 3
PARIS


We left our house on Sunday, Sept. 2nd at 1:30 to go to Dulles airport where we would catch our plane to Paris with a transfer in London. We made good time to the Crown Plaza Hotel in Herndon, Va., where we left our car - the same place as last year. Their shuttle took us to Dulles. The check in and security lines were quite short, and we were checked in and inside in plenty of time. We decided at 4:15 that we had better get something to eat as it might be 8:30 before we were served dinner on the plane so we stopped at Harry's where we have eaten several other years.
The plane left at 6:30 on time. It was a rather rough and bumpy ride probably due to the hurricane. We read for a while and then tried to get a little sleep. Dinner was served about 8:30 - rather spicy curried chicken and rice. About midnight they woke everyone up for breakfast (it was 5:00 am in London). We landed at 6:30 (1:30 am our time) on time, went through customs and another security check. Heathrow was very crowded with long waiting lines. We decided to have breakfast as we had two hour before our flight to Paris. We had a nice breakfast at a place called Giraffes, then walked for miles to the gate for Paris.
It was only a 1 hr 15 minute flight. After we got our luggage, we found the exit for the Air France bus to the Gare de Lyon train station - it was about an hour ride.
Gare de Lyon is one of the six large mainline
railway station
terminals in
Paris
. It the third busiest station of France and one of the busiest of
Europe
. It is the northern terminus of the
Paris–Marseille railway
. It is named after the city of
Lyon
, a stop for many long-distance trains departing here. The station was built for the
World Exposition of 1900
. It is considered a classic example of the architecture of its time. Most notable is the large clock tower atop one corner of the station, similar to
Big B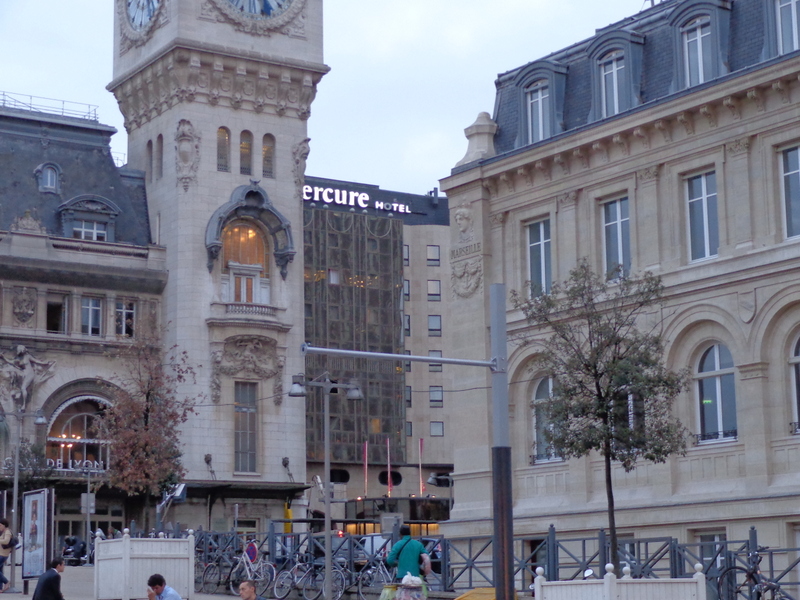 en
in London.
Our hotel, Mecure Paris Gare de Lyon, is almost in the train station. Note to the right of the tower. We checked and took at two hour nap. We were really tired. When we started travelling, we could fly all night and just keep going for the rest of the day, but for the past several years we have not been able to do that....wonder why?
We had planned to go to the Paris Opera and take a tour because I had made a model that included a finished interior. We had changed buses in front of it on our 2006 trip to Paris but did not have an opportunity to look at it closely or to experience the interior. Have a look at my model. Also we wanted to go the Pere Lachaise cemetery to see Abelard and Eloise's tomb which I also had made a small model of. By the time we recovered from a nap, it was too late. We went in to the train station to buy our ticket for tomorrow trip to Sens.
Inside the train station is the famous restaurant, Train Bleu. This is a very ornate, beautiful restaurant that has been in the train station since 1901.We had eaten there in 2006 when we spent Thanksgiving week in Paris. It was where a couple from California asked to join us for dessert. Then they invited us to join them the next night at another restaurant for dinner. Tonight we really didn't feel up to a big meal so we ate in the lower part known as L'Express Bleu. We both had salmon on bagels and French fries and shared a lemon tart for dessert.
After eating we walked around the block across from the train station. It was a beautiful area
We are still really tired and decided to call it a day -9:15 (3:15 pm at home).