CENTRAL EUROPE 2011
Day 8September 9
Friday
Prague
This morning we got up early and took a taxi to the Dresden train station for our train to Prague.
The trip took over two hours.

When we got to Prague, we found a very busy train station.

The first thing we needed to do was get some Czech crowns, a 1000 crown bills worth about 60 US dollars.

We stopped in a Burger King (yes, another Burger King) in the station for lunch, then to the train ticket office to get our seats (we already had bought our tickets on line) for our train to Brno on our way to Budapest in several days.
We went out to where the taxis were lined up and took a cab to our apartment.
The driver charged us 980 crowns – that was almost 60 US dollars.

When we arrived at our hotel/apartment, we were told at the desk that the taxi driver took advantage of us, like they do to all tourists.

The ride, we would later learn, should have cost less than 300 crowns – we paid
over three times that amount.

This certainly did not give us a very good first impression of Prague.

The government needs to step in and exercise some control.

We later learned that a visitor was charge 1000 crowns to be driven across the street to their hotel.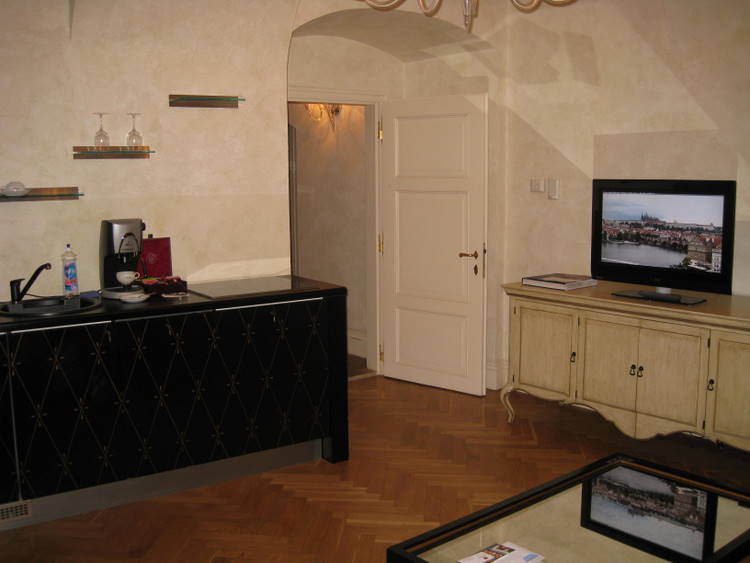 We checked into our hotel which was once a palace – the Pachtuv Palace MaMassion.
Because we had booked through Splendia.com for Dresden, Prague and Vienna, they gave us a free upgrade to a beautiful, huge suite with a large living room with a full kitchen bar, and a beautiful huge bedroom.

The entrance hall itself was twice the size of a normal hotel room – like the one we had at the Sacher in Salzburg.

The living room and bedroom had crystal chandeliers.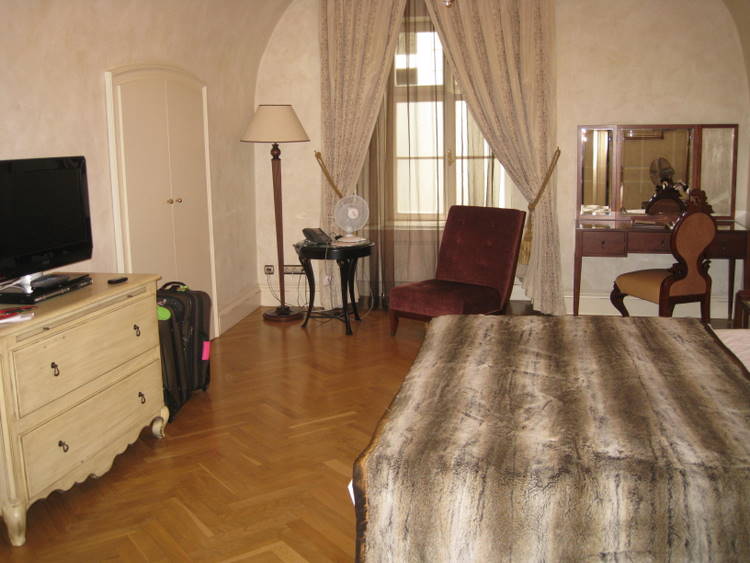 The Pachtuv Palace is right at the Charles Bridge which is the famous bridge in Prague.
From the front of the hotel, we had a wonderful view of St. Vitus across the river and up on top of the hill in the castle.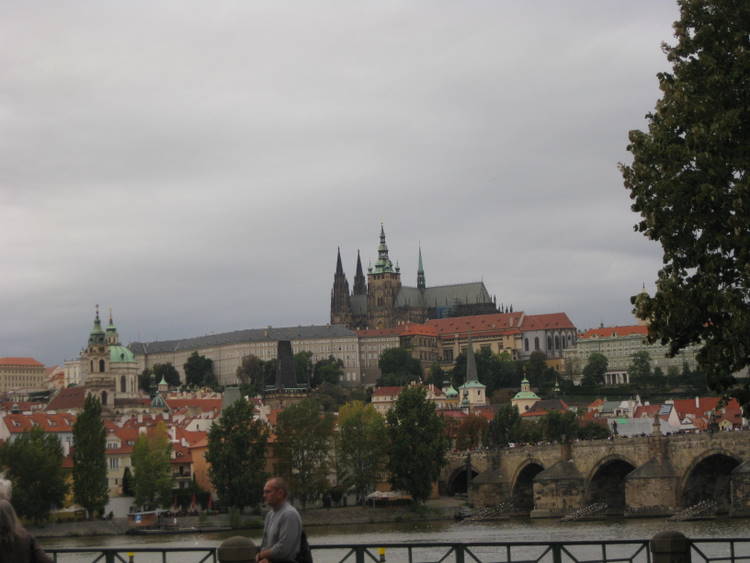 After settling in, we walked a few blocks to a large grocery store to get cereal, yogurt, sweets and milk for breakfast.
In Prague, many of the busy streets had underpasses rather than crossing the street on the surface.
Next we went next door from the hotel to the beautiful Phenix Café bar for drinks.
There was a young couple sitting at the next table who were speaking English.

We got into a conversation and found out that he was from Arlington, Virginia and she was from Virginia Beach, and the daughter of an Anglican Priest.

They were on their honeymoon and shared with us some of their wedding photos which they had on their

I pad.

It is a small world.

We had earlier spoken to a couple from South Carolina at the train station.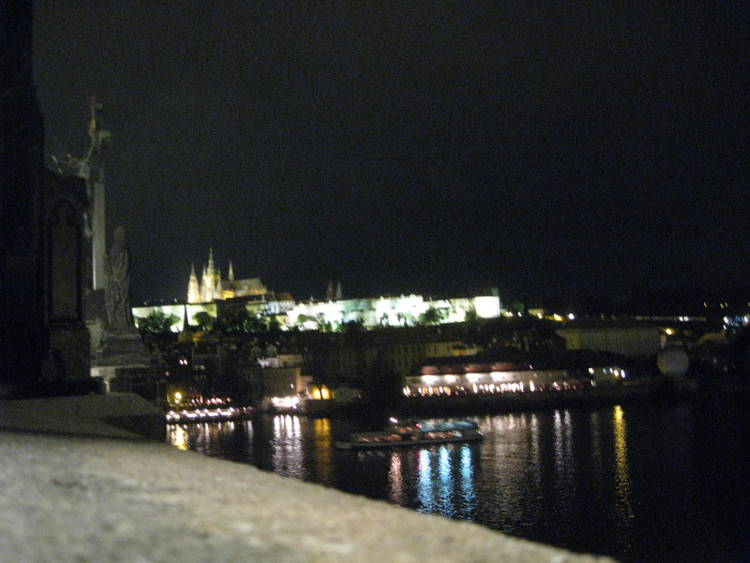 We decided to go back to our hotel where we had a wonderful dinner in the Amade Restaurant.
We ordered three small plates – beef tartar, scallops with pasta, and shrimp, all accompanied by a white Italian wine and a Czech red.

For dessert we had a very delicious tiramisu.

Everything was beautifully prepared and delicious.

It is hard to get used to the Czech crown…dinner cost 1275.00 in crowns.

Wow!
After dinner we walked across the Charles Bridge, which is a pedestrian bridge.
It was very crowded, and there were a number of musicians playing at different locations.

The hill, the castle, and St. Vitus were beautifully lit.
We went back to our apartment for a good night's sleep.
We did have a little problem in that the air conditioning

system had been turned off.

We had to open the top part of our bedroom window.

We were on the first floor, and we heard several groups of loud party goers walking past our window during the night.