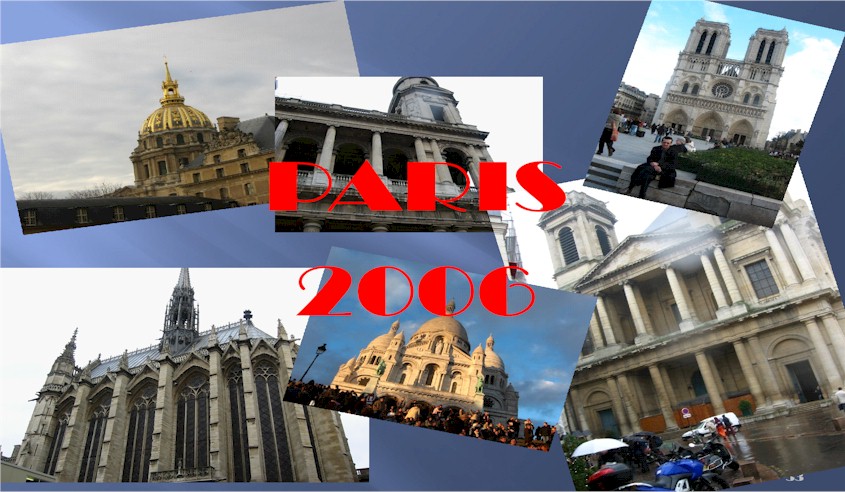 Nov 20 -26

, 2006
PREFACE
My wife's sister and her husband rented an apartment in Vancouver for the summer and asked us to come visit them.

We had two weeks in the Vancouver /Whistler area instead of an extended summer CATHEDRAL QUEST.
It is hard to stay away from Europe so we planned a week long November CATHEDRAL QUEST to Paris even though we had already experienced the Notre Dame Cathedral. But any excuse to go to Paris is justifiable. We debated about whether to stay in a hotel or rent an apartment.

Since we would be staying a week it seemed more practical to have an apartment where we could eat in for breakfast and have a comfortable living area in which to relax in the evenings.
My accommodation/restaurant queen wife, found a wonderful apartment renting site –

www.vacationinparis.com

.

We had an attractive one bed room apartment located on Rue Marie Stuart which is a small and narrow cobblestone street extending about 165 feet between rue Montorgueil and the arcades of the Passage du Grand Cerf in the second district.

It was a great location in a quiet area around the corner from the outdoor markets on Montorgueil yet near a metro stop.

We became quite proficient in riding the metro all over Paris.

Our visit consisted of revisiting Notre Dame (I had to make sure those little clocks were on the transcept roofs) and all the churches we had visited the summer before and a few that we had missed, going to the art museums, and some great restaurants.

We celebrated Thanksgiving Day with a wonderful "non-turkey" dinner.

Paris is a fun city even in November with drizzle most every day.

The sun came out our last day.
PLEASE RETURN TO THIS PAGE SOON AS I WILL BE FILLING IN THE DAY BY DAY DETAILS WITH SOME INTERESTING HISTORIES, STORIES, AND PICTURES OF OUR 9 DAY VISIT DURING THANKSGIVING WEEK.