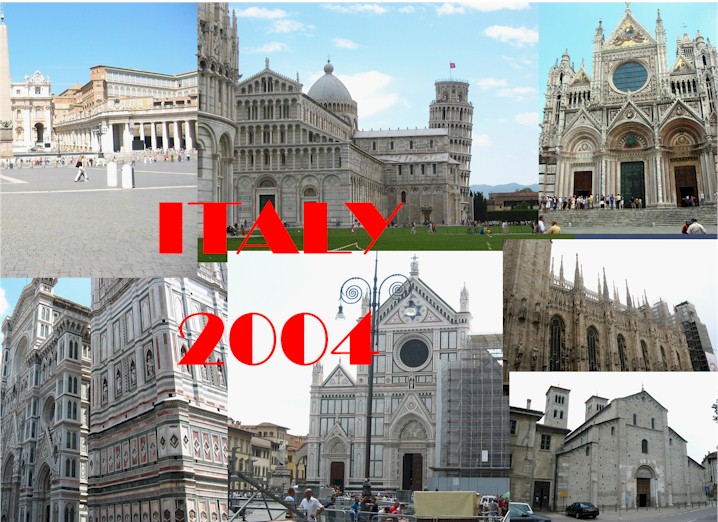 PREFACE
For this year's CATHEDRAL QUEST, we decided that we would like to visit Italian cathedrals.

Since we did not speak much Italian we were rather hesitant to take off on our own like we did the previous year in England.

We roamed the internet plus visited an American Express travel agent who gave us a lot of literature.

She recommended a Brendan Tour.

It was a nine day adventure that began in Rome and ended Milan, so we booked it.

We had a desire to see the Alps, so we decided that at the end of the trip in Milan that we would take the train to Como on Lake Como for four days.
We enjoyed the tour very much, although it was a Globus tour instead of the Brendan that we have booked. We had a hard time figuring out how we booked one company and ended up with another. It seems that they are related, but it was confusing to us.

At times we felt like "step children". The group was very congenial with people from all over the United States. We saw all of the highlights of Rome, Pisa, Sienna, Florence, Venice, and Milan.

The tour allowed some free time in Rome, Florence, and Venice.

We were able to see the Cathedrals in each town, but did not have time to visit other historic churches.

We did not feel we had enough time to see what we wanted to see in "brief stop" visits like in Sienna where we did not have time to go into the cathedral. At the end of tour in Milan we boarded a train for Lake Como for four days.

We had a wonderful time visiting of the little towns around the lake. Even though our Italian was limited we never had a problem communicating.
The advantages of the tour were that we didn't have to drive, carry our bags, or stand in long lines to be admitted to attractions.

All of the hotels were very nice and in convenient locations.

Many of the meals were included which resulted in sometimes being in large dining rooms without a great choice in what we had placed before us.

We had a couple of bad experiences. We prefer finding a nice restaurant with some ambiance and eating by ourselves or with another couple or two.

Several times we were offered extra tours to special tourist attractions at a cost which generally included a meal.

I will comment on these during the narration.

We did have a good time, but decided that in the future we would plan and travel on our own.

Being on our own in Como gave us hope that we could survive in another country where we had limited language skills. We are able to visit seven cathedrals and four other historic churches.
PLEASE RETURN TO THIS PAGE SOON AS I WILL BE FILLING IN THE DAY BY DAY DETAILS WITH SOME INTERESTING HISTORIES, STORIES, PICTURES AND OBSERVATIONS.