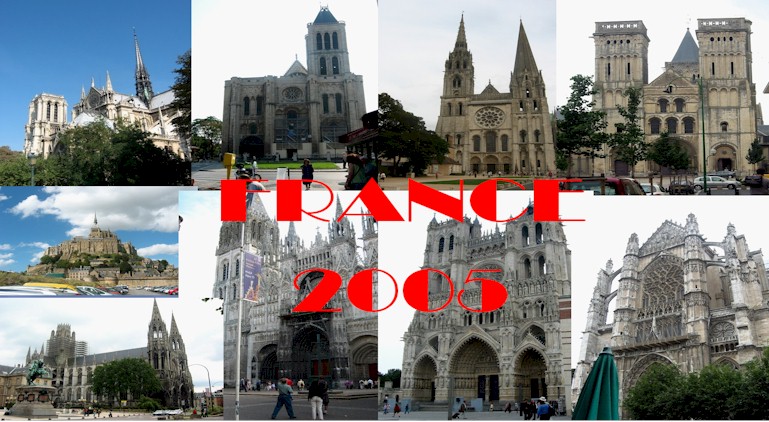 PREFACE
After returning from last year's trip to Italy, we started planning our next "CATHEDRAL QUEST".

It was time to go to France.

I had made a wooden model of Amiens Cathedral and wanted to see it in person. I had spent over 300 hours in the construction of this 38 inch tall clock. This model, designed by Al Spicer of Greensboro, N.C. contains 636 pieces with 3,877 inside cuts.

This means that I drilled almost 4,000 holes with a drill bit the size of a needle and threaded the saw blade through each hole, often with just a little cut that took now more than two seconds.

The clock was amazing in that Mr. Spicer had never been to Amiens in person.

As with my entire scroll saw works, it is just as easy to cut three stacked pieces as one.

So I had enough parts cut to make three cathedrals.

After seeing the "real thing" I made a correction on the second one by making the two front towers straight instead of the top part of each being indented.

I also took pictures of the rose window design

and then printed it on acetate and replaced the clock with the stained glass window.

Ten years before, I had made a model of Chartres Cathedral

and

Mont St. Michel, not knowing where either were located or much about them.

I was also anxious to see these famous structures.
I bought all the books that I could find on French Cathedrals.

We made a list of the ones we especially wanted to visit; mainly those surrounding Paris to the west, north and east.

We looked at a number of tour companies, but couldn't find one that went to all the places we wanted to see.

So we designed our own CATHEDRAL QUEST.

We poured over maps for weeks, read all we could about the cathedrals that we wanted to explore and the towns in which they were located.

Using the internet, Frommer's and Fodor's tour books, we decided on hotels that would be located near the cathedral and made reservations – months in advance.

My wife, being the restaurant queen, booked a few well known eateries for us.

We printed out Mapquest directions and maps, and reserved a rental car.
Our cathedral quest began with two days in Paris.

The highlight of our stay was attending Sunday Mass at

St. Denis

, acknowledged as being the place of origin for Gothic architecture.
The next day we took the train to

Chartres

where we picked up our rental car (no driving for us in Paris!) and had a wonderful Malcom Miller tour of Chartres Cathedral.

Our next stop was

Mont St. Michel

for two days in a hotel on the Mont –wow!

We took several side trips visiting towns between Mont St. Michel and

Dinard.
The next day we drove to

Caen

where we visited the abbey churches built by William the Conqueror and Matilda. Another highlight was visiting the D-Day beaches.

On to

Rouen

and a wonderful view of the cathedral from our hotel room located across the street.

We were blessed by attending the high mass on Sunday (Episcopalians get in trouble doing that in America).
From Rouen we stopped at the ruins of

Jumierge Abbey

on our way to Amiens.

My wooden model of Amiens cathedral looked very similar, except for the placement of the top of the two towers.

We traveled next to Reims by way of

Beauvais,

the tallest cathedral in the world.
We were in

Reims

for four days, one of which we took a side trip to

Soissons

,

Noyon

and

Laon

.

What a breath taking day!
On our last morning we drove back to Charles De Gaulle airport without incident and headed home.

It was a wonderful trip.

Driving was no problem, and we never got seriously lost.

Even though our French was not too proficient we had no trouble communicating with people, although most French prefer that you speak French instead of English.
All of the cathedrals and abbeys we saw were spectacular.

We visited ten cathedrals, five famous Abbeys and nine other historic churches. I look forward to telling you more about our experiences.
PLEASE RETURN TO THIS PAGE SOON AS I WILL BE FILLING IN THE DAY BY DAY DETAILS WITH SOME INTERESTING HISTORIES, STORIES, PICTURES AND OBSERVATIONS.